6th June 2011
 Recording of the Week

,

  Vaughan Williams's The Garden of Proserpine
Ralph Vaughan Williams was one of the most important British composers of the Twentieth Century, but while works like The Lark Ascending and many of the Symphonies enjoy plenty of performances and regular recordings, there is still a significant quantity of the composer's output which is largely unknown and has never been recorded.
A young Ralph Vaughan Williams
The Ralph Vaughan Williams Society was set up in the early 1990s with one of its main objectives being to encourage performances of the composer's lesser known works. With over 1,000 members signed up from all corners of the world, this went a step further in 2007 when the society started its own record label – Albion Records. They have just released their 7th disc and so far every one has contained at least one world premiere recording. On the new disc it is The Garden of Proserpine and here it receives a warm and sensitive reading from the Bournemouth Symphony Orchestra under Paul Daniel.
Written in 1899 when the composer was still in his twenties, The Garden of Proserpine was Vaughan Williams's first attempt at large-scale composition. It is a substantial piece, nearly twenty-five minutes long and scored for soprano soloist, chorus and orchestra. Given that up to this point he had only produced a handful of songs and some chamber pieces, its achievement is even more remarkable.
The text is taken from a poem by Algernon Charles Swinburne – a poet thought of as rebellious and free-thinking at the time, but with a real mastery of metre and rhyme. Swinburne's poem about the world of the dead and in particular the antitheistic view that death was the end of all human consciousness was quite shocking when it was first published in 1866. Vaughan Williams's setting captures the general mood of despair and bitterness of the poem with sombre melodies and slow-moving harmonies. Stylistically you can tell it is Vaughan Williams but it is a little way off his more mature voice, and influences of other composers are more clearly heard – not least Wagner, with his Good Friday Music from Parsifal coming into my mind on more than one occasion.
On this new recording the work is coupled with the composer's symphonic work 'In Fen and Country' which although composed only five years later inhabits a much more typical Vaughan Williams sound world. The other major work on the disc is Vaughan Williams's arrangement of Patrick Hadley's cantata Fen and Flood – a piece inspired by the 1953 storm which devastated East Anglia and the Low Countries and killed 2,400 people. It is a dramatic work scored for soprano, baritone, mixed chorus and orchestra and also receives its world premiere recording here. I found it a terrific piece, with some lovely melodic writing and real dramatic power.
These are all very good recordings with excellent soloists, strong choral singing and an orchestra and conductor entirely at home with the music. There are sound samples available via the link below, but unfortunately for The Garden of Proserpine it is a bit like a Bruckner Symphony in that not much happens in the first minute as it starts very quietly and slowly!
One other thing to mention is that, to coincide with the new CD release, the publisher Stainer and Bell are about to release a vocal score of the work. As we now sell sheet music as well, in case anyone is interested you can see full details of it and pre-order it at what seems a very reasonable price here.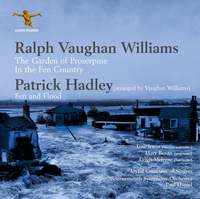 Jane Irwin (mezzo-soprano), Mary Bevan (soprano) & Leigh Melrose (baritone), Bournemouth Symphony Orchestra & The Joyful Company of Singers, Paul Daniel
Available Formats: CD, MP3, FLAC