5th June 2018
 Interview

,

  Federico Colli on Domenico Scarlatti
Reviewing the first instalment of Federico Colli's bold and imaginative survey of Domenico Scarlatti's keyboard works at the beginning of May, I made the slightly hyperbolic claim that I would 'happily listen to him performing the remaining 500-odd sonatas back-to-back' – four weeks on, I may not have had the opportunity to make good on that statement, but I've returned to the album so many times that my Scarlatti Sonata Count for the month must be well into triple figures by now.
It was a huge pleasure to speak to Federico (who's as witty and ebullient in conversation as he is at the keyboard) recently about the genesis of the project and about Scarlatti's life and times, taking in Freud, Farinelli and flamenco along the way…
How did your relationship with Scarlatti begin?
I've had quite a long relationship with him because of course I am Italian, and in Italian music-schools and conservatoires Scarlatti is considered a huge challenge for young musicians: when I was studying with my very first teachers as a child of 10 or 12 I absolutely loved these sonatas, so my immersion in his music really started quite early. Then I focused my attention on some other composers, but when Chandos invited me to record my debut album my interest in Scarlatti intensified again: I had to look back to my childhood and take this music (with all its style, joy and freshness) under my hands once more, but with a completely new philosophical approach. I am no longer a child, and Scarlatti's music is full of complexity, so I needed to find a way through this complexity with the eyes of a young man.
I gather that you did a lot of academic research into Scarlatti's life and times and philosophy…
I started from the standpoint that it is only through expanding our consciousness that we can reach the real beauty – intuition is important, but even intuition needs to be informed by knowledge and research. So I studied a lot about Scarlatti's life (especially his time in Naples, surrounded by Italian opera and the bel canto tradition), and about his personality, in particular his relationship with his father Alessandro: fortunately or unfortunately, Alessandro was a very influential composer of opera, and Domenico was always frustrated at not being able to reach the same prominence as his father. The fact that he eventually felt he had to leave Italy in order to escape this frustration and this challenge between himself and Alessandro gives you some idea of the psychological complexity at work here. In Italy Domenico was not so influential, simply because he wasn't at all a personality of his time: in a sense he's really a Romantic, because the content of his music is so much more important than the form.
He also lived in a period where opera sat at the top of the musical hierarchy: if you decided to compose for violin or basso continuo or harpsichord, you could be a genius but you were a nobody in that society. So he had to escape: he spent time working in the Baltic area before moving to Lisbon and then to Madrid, but even there he found that singers were far more important than instrumentalists... and who should be in Madrid at that time but Farinelli, one of the best singers in the world! Scarlatti went there full of hope and joy at the prospect of finding something new, only to find exactly the same mindset that he thought he'd left behind in Italy - but now he also had to deal with the melancholy of being alone in a foreign country, grappling with a different language and different rules and customs. So there's a great deal of sadness and melancholy in this music, which we can only grasp by exploring the relationship between his personality and the time in which he lived.
You mentioned the supremacy of operatic writing in Naples during Scarlatti's lifetime: how much does the influence of Italian opera and bel canto style creep into the sonatas?
I would say a great deal. A certain operatic temperament is very much in evidence, especially in the slower sonatas where the bel canto in the right hand is on another level to what is happening in the left: it is clear to me that it is really Farinelli who is singing those lines! And it's very important as a pianist to be aware of that, because understanding that opera was the magma or fire where Scarlatti forged a lot of his ideas is very liberating. It's rare to hear Scarlatti played by a pianist with the freedom of a singer, but a lot of the sonatas cry out for the sort of liberties that singers always take in baroque music (and also in Verdi and later Italian opera). So I think that you can use a lot of rubato in Scarlatti's sonatas: you can really take your time!
Do you see a certain shift in style after Scarlatti's move to Spain?
We shouldn't forget that Naples, where Scarlatti was born, was a city full of Spanish influence (the court of Borgogna in Naples, for instance, was almost 100% Spanish in its traditions), so he was immersed in that culture well before he actually moved to Spain. The influence of Spanish culture in the south of Italy is still very pronounced even today: when Neapolitans now want to say 'I have a car', they don't say 'I have a car', they say 'I take the car', which comes from the Spanish 'tengo'. Can you imagine what it was like 350 years ago?! And in some sonatas that Spanish inflection is very clear indeed: if you take, for example, the fifth sonata in the album (in D major, K492), the whole of the middle section is like an onomatopoeia of a flamenco guitar. Both the areas which you mention, the operatic and the Spanish elements, must be exaggerated, because we are living in a period where it is necessary to show the two very clearly – but of course exaggeration does not preclude simplicity!
With over 500 sonatas to choose from, where did you start when it came selecting the programme for this first album in the series?
I started with the ideas themselves – I knew I wanted to include some joyful sonatas, some melancholic sonatas, some holy sonatas (all of the works in the final chapter are full of a sort of holy melancholy, which to me is the most beautiful), and some polyphonic sonatas. Once I had all these ingredients clear in my mind, it wasn't actually very difficult to choose. In fact it took only two days: I got together with friends at my house on Lake Garda (including one of my best friends in the piano world, who actually comes from Naples), and together we went through all 500-odd sonatas. It sounds daunting, but it all happened very pleasantly and naturally!
What sort of a piano did you use for the recording?
I recorded in Potton Hall [Suffolk], where they have a superb Steinway Model D, and a fantastic technician from London came up to work on the piano during the recording: he's a good friend of mine, and he really knows what to do with a Steinway! it was a superb instrument and very easy to record.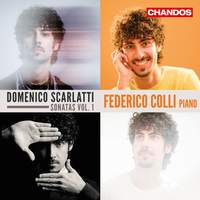 Federico Colli's The Power of Illusion was released on Chandos last month, and was Recording of the Week in this week's Sunday Times: 'this is going to be an exhilarating journey in Colli's crisp, articulate and expressive hands'.
Available Formats: CD, MP3, FLAC, Hi-Res FLAC