16th March 2018
 Recording of the Week

,

  Alfred Brendel performs music by Schumann and Brahms
It was ten years ago that pianist Alfred Brendel announced his retirement from public performances, giving his final recital in Vienna in December 2008. It is an unexpected pleasure, therefore, to be able to listen to two hitherto unreleased live recordings, previously broadcast on Austrian radio but appearing on disc for the first time here.
This performance of Schumann's Piano Concerto dates from 2001, during Brendel's residency in Vienna as part of his seventieth birthday celebration concerts. He is partnered by the Vienna Philharmonic under Simon Rattle, and what a happy pairing it is. The first movement elicits a nicely flowing tempo from Rattle, with the distinctively plaintive sound of the Vienna oboes and some beautiful clarinet solos being particular highlights.
As you might expect, having an orchestra of this calibre really pays off; even the briefest of string chords are imbued with a tremendous warmth and richness. What I particularly appreciated about Rattle's way with this piece is that the orchestra is far from just having an accompanimental role, and the small details are treated with as much care as they would be if this were a purely orchestral symphony. There are all sorts of tiny moments, such as the balance between the woodwind at various points and the care that Rattle takes to bring out the movement of the inner parts, that elevate this performance above the ordinary.
Equally thoughtful in his contribution is of course Brendel; he seems happy to allow the orchestra to come through where appropriate, and this meant that I could hear every quiet string entry perfectly. That's not to say that he is ever underpowered, however: the first-movement cadenza is impressively robust, and the third movement is wonderfully energetic and exuberant.
His intelligence and musicianship carry through unquestionably into a 1979 performance of Brahms's Variations and Fugue on a Theme by Handel for solo piano, also recorded live in Vienna. The important point to mention here is that Brendel never recorded this piece in the studio, and so this represents a significant addition to his discography.
The whole piece lasts just under half an hour, and with all of the twenty-five variations in the same key (aside from a few brief excursions into the parallel and relative minors) the difficulty for any pianist is to maintain interest over such a long span. In this respect it's a joy to listen to the range of colours and variations of tone that Brendel produces. This is especially important given the large number of repeats involved in many of the variations: in Brendel's hands no two phrases are ever the same, and his imagination and capacity for different choices on the repeated material is a pleasure.
He performs the opening aria with just the right amount of poise and refinement, beautifully phrased without coming across as overly fussy. He also accentuates all of the rhythmic games that Brahms likes to play, particularly in the third and fourth variations, whilst the various technical challenges (such as the double octaves of variation six and the fast, toccata-like repeated notes in variations seven and eight) are despatched with no trouble at all.
Both performances are quite rightly greeted with enthusiastic applause, preserved here on this disc. Speaking of the Schumann performance, Brendel said that "listening to this live recording I felt that, for once, I heard what I wanted to hear". I can only say that I wholeheartedly agree!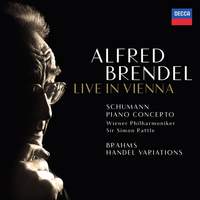 Alfred Brendel (piano), Wiener Philharmoniker, Sir Simon Rattle
Available Formats: MP3, FLAC