12th April 2018
 Interview

,

  Masaaki Suzuki on Beethoven's Missa solemnis
Masaaki Suzuki and his Bach Collegium Japan have gained a near-legendary status as interpreters of Bach's sacred vocal music, with their cantata cycle in particular being the benchmark against which all others are measured.
Recently they've branched out into later repertoire, adding Masses by first Mozart and now Beethoven to their discography - the Missa Solemnis is one of the pillars of the choral repertoire and when I first heard about this project I was fascinated to hear what the BCJ would make of it.
Masaaki was kind enough to share some of his thoughts on his approach to Beethoven, and how he finds religion and music intertwine.
You're mostly known as a Bach interpreter – do you see any parallels between this work and Bach's similarly epic Mass in B minor, or indeed between Bach and Beethoven in general?
From the musical point of view, there is hardly anything in common, and the sound and composing technique are quite opposite. But the basic approach of Beethoven to each word of Mass text that is meant to describe or 'musicallize' word by word can be compared to the rhetorical approach in the Baroque era, like in Bach's Church cantatas.
Some writers have seen Renaissance influences on the style of the Mass – Josquin and the Franco-Flemish School, as well as Palestrina. Do you think this heritage can be heard in the music?
Yes, I do. It is discernible if you listen to the work analytically, not only emotionally, because Beethoven's musical structure is mostly based on consonance, rather than dissonance like Bach's case – even in polyphonic movements – and that can be compared to Palestrina's polyphony.
You've previously referred to your own Calvinist beliefs when discussing Bach; do you feel that your own faith affects the way you approach the performance of religious works?
The faith is the foundation of my whole life, and not only of my job as a musician. So, my faith is actually something that not only affects my approach to performance, but makes my whole life possible.
There are of course 'period' elements in this recording. Do you apply the same standards of authenticity to Beethoven as to Bach, or are you more willing to allow modern anachronisms into the music?
I believe that, in any field of cultural activity, the style belongs to person – in this case, firstly to the composer and to the performer. So I can say only that Beethoven must be 'Beethoven', whatever instrument you have. And this is the 'Beethoven' for myself and Bach Collegium Japan.
With the tradition of massed performances of the Ninth at Christmas, some might say that Beethoven's status in Japan is even more unique than in the West. Do you think Beethoven occupies a special place in the hearts of Japanese music-lovers?
For Japanese audience of classical music, Beethoven indeed has very special position. But, so does Bach as well in a different sense of value.
Can you tell us anything about your future recording plans?
I am hoping to approach Mendelssohn with my Orchestra and Choir, in terms of sacred works.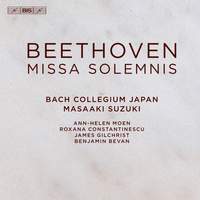 Bach Collegium Japan, Masaaki Suzuki
Available Formats: SACD, MP3, FLAC, Hi-Res FLAC