24th November 2017
 Recording of the Week

,

  John Nelson conducts Les Troyens
With a twenty-strong cast and a running-time of roughly four hours, opportunities to put on Les Troyens don't come around too often. A few months ago, one of the stars of this project told me that John Nelson has waited thirty years to record Berlioz's Virgilian epic, and the level of preparation, commitment and sheer love for the score which that suggests infuses every bar of this live recording, made earlier this year in Strasbourg. It's hard to believe that none of the principals apart from the excellent Polish mezzo Hanna Hipp (whose warmly sympathetic Anna graced Covent Garden's 2012 production) have performed their roles before – every single performance crackles with the sort of energy, assurance and dramatic engagement that usually springs from months of rehearsals for a staged run rather than two concert-performances. The Strasbourg orchestra play out of their boots for Nelson throughout: the entire score glitters, and the woodwind in particular cover themselves in glory (witness the clarinet solo which accompanies Andromaque and her son in their funeral procession in Act One, or the manic rustic gaiety conjured by the chattering flutes and oboes in the opening chorus).
Though Nelson's vision of the piece doesn't play up the score's Classical antecedents as explicitly as John Eliot Gardiner's 2003 account (issued on DVD but now alas deleted), the astute casting decisions ensure that the spirit of Gluck hovers over proceedings alongside the ghosts of Hector, Priam & Co. The three enormous principal roles (often allocated to Wagnerian voices) are all taken by singers who are more closely associated with bel canto and even baroque repertoire than with heavy-duty dramatic assignments: Joyce DiDonato (peerless in Rossini and Handel) as Didon, Michael Spyres (who's carved a successful niche for himself in obscure high-wire roles for Opera Rara) as Énee, and - perhaps most surprisingly - Marie-Nicole Lemieux as the doomed Trojan prophetess Cassandre. The exuberant Canadian contralto is best known for her portrayals of feisty comic characters such as Verdi's Mistress Quickly and Rossini's Isabella, but in tragedienne mode she's magnificent and the top of the voice is rock-solid - whether curdling the blood as she visualises disaster against the backdrop of celebrations in Act I or hurling imprecations at both the weaker-willed Trojan women and the invading Greek hordes at the end of Act II.
Spyres's Énee is a revelation – the tremendously taxing role could have been written for him, and he sings tirelessly from his first rabble-rousing appearance in Troy to his agonised farewell to Didon and Carthage over three hours later. The voice sits higher and brighter than many of his forebears on record (excepting perhaps Nicolai Gedda, who recorded it for Georges Prêtre in the late 1960s), and the result is more conflicted young firebrand rather than grizzled war-hero; at full throttle (which is often) he's spine-tingling, but his tender goodbye to his young son and especially his guilt-wracked monologue as he prepares to leave Didon are the stuff dreams are made on.
If I might continue with the Tempest quotations (which seems appropriate enough for this storm-tossed score) it's always a special thrill to hear a singer who seemed to be already at the peak of their powers undergo a sea-change, and that's exactly what we experience here with DiDonato. The process of working on this role seems to have unleashed darker colours and a formidable 'blade' in her silvery mezzo; her French diction is idiomatic and incisive, and she captures every nuance of Carthage's 'queen of hearts', from the tremulous erotic thrill of her first encounter with Énee to her scorching suicide-scene. I've never heard her sound better, which is saying a great deal.
The smaller roles are uniformly excellent: as my plea to be allowed a two-part review (in the spirit of the two-part opera!) to do them all justice understandably fell on deaf ears, I'll content myself with singling out Stanislas de Barbeyrac's dark-toned Hylas, Marianne Crebassa's winsome Ascagne, and Stéphane Degout's swashbuckling Chorèbe.
Our Top Ten Recordings of the 2017 are to be decided this afternoon, but for me personally this is one of the triumphs of the year - if not the decade.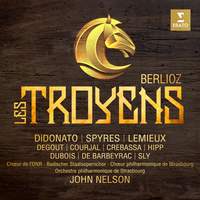 Joyce DiDonato (Didon), Michael Spyres (Énée), Marie-Nicole Lemieux (Cassandre), Stéphane Degout (Chorèbe); Orchestre philharmonique de Strasbourg, John Nelson
Les Troyens is released today on Erato.
Available Formats: 4 CDs + DVD Video, MP3, FLAC, Hi-Res FLAC