3rd November 2017
 Recording of the Week

,

  Mozart's Requiem from René Jacobs
Mozart's Requiem is surely one of the greatest incomplete scores in the entire classical repertoire, thanks not only to the astonishing quality of the music which does survive but also to the endless opportunities for detective-work which the score and its genesis have afforded to musicologists, dramatists, historians and armchair-sleuths alike. Though numerous reconstructions of the work have been essayed over the centuries, it's the completion by Mozart's friend Franz Xaver Süssmayr which has become the standard-issue performance version – even as many musicians continue to express misgivings about the quality and provenance of his contributions. Step forward Pierre-Henri Dutron, a French composer with a background in film-music who's also an avid Mozart scholar, and has made it his business to refine and rework Süssmayr's ideas with imagination and integrity.
In his thoughtful and engaging booklet-note, Dutron summarises his mission-statement as a bid to combine 'the search for authenticity with artistic audacity', and it strikes me that he's done an uncommonly fine job – though his approach is decidedly less 'audacious' than several other recent completions and contributions. (Compare, for instance, King's College Cambridge's 2013 Requiem Realisations, which presents the later movements as reimagined by composers and musicologists including Michael Finnissy, Duncan Druce and Robert D. Levin).
Certainly Dutron provides double-takes aplenty for anyone familiar with this score in its 'standard' incarnation, but his musical language remains unequivocally Classical: he writes of his desire to present 'a Requiem of the eighteenth century and a creation of the early twenty-first', but there are no deliberate anachronisms to draw attention to this dual genesis, and his innovations are informed by recent developments in musical scholarship and performance-practice rather than by 'contemporary music' itself. Both his booklet-notes and musical contributions evince genuine affection and sympathy for Süssmayr, even as he acknowledges that the project was born out of a desire to improve upon the well-intentioned attempts of a relatively inexperienced young man faced with the Herculanean task of second-guessing the unrealised plans of a genius. Though Dutron has in fact composed his own entirely original versions of the movements for which Mozart left no instructions whatsoever, these don't feature on the present recording, so what we get here is 'Süssmayr Remade' rather than 'Mozart Extended' – mindful not to throw out the baby with the bathwater, he uses Süssmayr's original material as a jumping-off point for his own inspiration rather than discarding it altogether.
As all of this suggests, Dutron avoids getting under Mozart's feet at all costs, so it's predominantly in the movements which were composed entirely by Süssmayr (the Sanctus, Benedictus and Agnus Dei) that things start to deviate significantly from 'the norm' – though there are little touches of originality even in the earlier sections. My ears first pricked up during the Dies irae, where Dutron reallocates some of the chorus phrases to the solo quartet; likewise the more detailed string-writing and addition of clarinets in the Tuba mirum had me dusting down my full score to play Spot The Difference. The Benedictus is the most radically altered of all the movements – I'll admit to a rather self-interested soft spot for Süssmayr's version thanks to its lovely opening alto solo, but Dutron substitutes intertwining soprano and tenor soloists which blossom into something altogether richer and more complex.
And what of the performance itself? Many of the hallmarks which made Jacobs's Mozart opera series so vital (minus, of course, the occasionally hyperactive continuo-playing which polarised opinion there!) are in evidence, such as the incisive string-playing and pacy but never frantic tempi, and the four soloists (all alumni of the opera recordings) blend seamlessly with one another. Even without the additional interest of Dutron's contributions, I'd still be clearing a space for this on my already buckling Mozart shelf.
Interested parties can view the entire score as a pdf on Dutron's own website – as yet it remains unpublished, but I'm sure I won't be the only musician who'd welcome the chance to have a crack at performing this new (and yes, I'll stick my neck out and say 'improved'!) take on Süssmayr's contributions.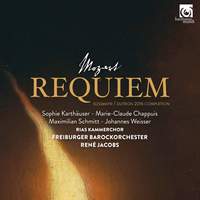 Sophie Karthäuser (soprano), Marie-Claude Chappuis (mezzo), Maximilian Schmitt (tenor, Johannes Weisser (baritone); Freiburger Barockorchester, RIAS Kammerchor, René Jacobs
Available Formats: CD, MP3, FLAC, Hi-Res FLAC