25th October 2017
 Interview

,

  Hannu Lintu on Sibelius
Sibelius has always featured prominently in the career of the Finnish conductor Hannu Lintu, but he's been particularly deeply immersed in his music for the past couple of years – for the 150th anniversary of the composer's birth in 2015 he performed and recorded all seven symphonies with the Finnish Radio Symphony Orchestra and collaborated on an illuminating documentary about his life and works, and this year he's been focusing on his influence on subsequent generations of Finnish composers to celebrate the centenary of Finnish independence. His latest recording features a set of eight Sibelius songs in new arrangements by one of Finland's most respected contemporary composers, Aulis Sallinen, as well as two tone-poems from either end of Sibelius's career: En Saga (1893) and Tapiola (1926). I spoke to Mr Lintu shortly before the album's release last week to find out about the genesis of the Sallinen project and his thoughts on how the struggle for Finnish independence affected Sibelius's music and life.
The new disc includes the world premiere recording of eight songs in new orchestrations by Aulis Sallinen – were they conceived as a cycle, or as stand-alone songs?
They were actually conceived as one half of a pair: when we started work on the project in 2016, we commissioned two sets of orchestrations. The other was by Colin Matthews, for Soile Isokoski, which includes a lot of the more famous songs (Sibelius wrote some of his best-known songs with a lyric soprano voice in mind); those aren't recorded yet, but we're planning it. It was my own idea to approach Aulis Sallinen for the other set, because I know how closely linked orchestral colours and text are for him: in fact he was really the only composer I could think of for this, because although he never imitates Sibelius as such, I always sense that there's a deep underlying affinity with his music.
I left them to decide which songs they wanted, and which order they wanted to do them in: Anne Sofie was the one who actually chose the songs, though I think she did discuss it with Aulis. She wanted to shine light on the lesser-known pieces which are also the ones that she really loves, and she felt that they needed to be in the Swedish language because the ones we commissioned for Soile were in Finnish. Swedish was Sibelius's own language, and I find that there are two main styles in his songs: the Finnish settings are more grand, Romantic and even nationalistic, whereas in the Swedish ones he's more philosophical, working with a more gentle brush, and that's why Anne Sofie wanted to focus on them. She included some songs which have a certain gravity, like Jägargossen and Under strandens granar, but the others are really miniatures (I think of them as being like fragile flowers), and these were the two sides of Sibelius that she really wanted to show. And of course it helps that she's a native speaker of the Swedish language – these songs are very seldom done, let alone in proper Swedish!
Was it a deliberate decision to programme one work written pre-independence and one post-?
Yes, indeed. In 2015 we released a recording of the Lemminkäinen Legends and Pohjola's Daughter, (which spans roughly two decades, from around 1890 to 1910) and then on this disc we wanted to demonstrate how much his style changed between the 1890s and the 1920s. In works like Kullervo, the Legends and En Saga, he really borrowed heavily from Finnish folk-song material and also sometimes composed in a style that sounds like folk material but actually isn't. But later on he realised that he wanted to become a symphonic composer in a different style, a more generic, European style – and what I really wanted to show with this pairing is that although he abandoned the folk style, he somehow never abandoned the spirit of it. I don't know if that sounds logical at all, but something of that folk spirit remains in his music, and it's there in Tapiola in the most dramatic way – of course the melodies are now genuinely his own, but they all have this essence of Finnish folk-music.
You've devoted a lot of energy this year to curating and conducting programmes celebrating the centenary of Finnish independence: how much impact, do you think, did the struggle for that independence have on Sibelius (politically, personally, or artistically)?
A good question. What I do know is that first and foremost he felt awkward, embarrassed and uncomfortable with the fact that he became some kind of a national figure during the fight for independence and for some time afterwards, and then again during World War Two. He just wanted to be left alone in peace, but whenever there was a national crisis people looked to him as the most famous Finn (and he still IS one of the most famous Finns). Of course there are certain compositions from the early twentieth century (like Finlandia and even maybe the finale of the Second Symphony) that had a secret message which Finns understood – not unlike the way that the Soviets understood Shostakovich in the Seventh and Eighth Symphonies – and music was a perfect tool during the days of very tight censorship. The censors couldn't touch absolute music, they couldn't touch Finlandia: but of course all Finns knew what the piece meant. I'm sure that he composed certain pieces because he wanted to encourage things, but I don't think that he ever felt it was somehow his duty or main task – ultimately he wanted to be a European composer and he just couldn't help the fact that he happened to be the only internationally recognised composer in Finland. That happened automatically, and against his will it gave him this position of national hero.
Is it possible (or even helpful) to think about a specifically Finnish orchestral sound, and how much influence do you think Sibelius had over that sound?
In the same way that when people abroad talk about 'Finnish folk-music' they are really talking about Karelia, I often think that when people think or talk about a 'Finnish orchestral sound' they are really talking about Sibelius! His sound-world affected many of the next-generation composers, like Leevi Madetoja and Erkki Melartin, symphonic composers who wanted to create the same kind of dark sound and broad melodies, but then I think there was a strong opposition in 1920s when we suddenly had modernist composers who really wanted to write in the spirit of Scriabin and Stravinsky and Debussy, and to me those modernists (people like Aarre Merikanto, Uuno Klami, or Ernst Pingoud) also have a very Finnish sound. Then in the 1960s and 70s we have composers like Joonas Kokkonen and Aulis Sallinen who after four decades actually continued in the vein of Sibelius (again, not imitating but sharing that same 'sound-spirit'), so maybe in the 70s and early 80s, people abroad taught that this was 'The Finnish Sound' though it is still essentially 'The Sibelius Sound'! Then we have people like Magnus Lindberg and Kaija Saariaho who took very different things from Sibelius's music: they're really interested in the late works (Tapiola, the Seventh Symphony, The Tempest), and from that music they found very modern details, almost spectral harmonies, interesting forms. (For instance Magnus Lindberg very often says that he has been affected not by the sound of Sibelius, but by his modernity and innovation). So Sibelius had (and continues to have) massive influence, but I would say that Finnish music has as much variety as German music or British music nowadays.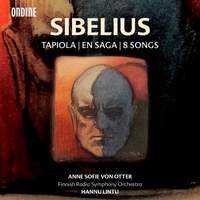 Anne Sofie von Otter (mezzo), Finnish Radio Symphony Orchestra, Hannu Lintu
Hannu Lintu's recording of En Saga, Tapiola and 8 Songs was released on Ondine on 13th October.
Available Formats: SACD, MP3, FLAC, Hi-Res FLAC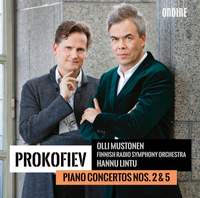 Olli Mustonen (piano), Finnish Radio Symphony Orchestra, Hannu Lintu
The second volume of Hannu Lintu's Prokofiev Piano Concertos with Olli Mustonen & the Finnish Radio Symphony Orchestra was released on Ondine on 8th September.
Available Formats: CD, MP3, FLAC, Hi-Res FLAC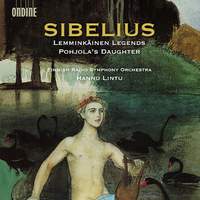 Finnish Radio Symphony Orchestra, Hannu Lintu
'Textures are sifted with skill, chosen tempi are unfailingly judicious and Lintu shows a canny awareness of the bigger scheme...the performance [of Pohjola's Daughter] is a meticulously prepared, trim and keenly observant one.' (Gramophone)
Available Formats: SACD, MP3, FLAC, Hi-Res FLAC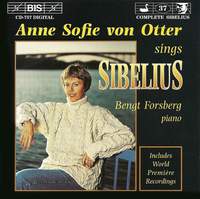 Anne Sofie von Otter (mezzo-soprano), Bengt Forsberg (piano)
'The vast majority of Sibelius's songs are in Swedish, the language with which he grew up as a child, and here they're given by a distinguished native Swedish partnership...Given the artistry and insight of this splendid partnership, and the interest and beauty of the repertoire, this is a self-recommending issue.' (Gramophone Guide)
Available Formats: CD, MP3, FLAC