23rd August 2010
 Recording of the Week

,

  Elīna Garanča goes Spanish
As you read this I hope to be sitting on beach on the Atlantic coast of France enjoying warm sunshine and reading a book. So it seems entirely appropriate this week to tell you about Elīna Garanča's new album - 'Habanera' - which is full of the summer sun (albeit Spanish rather than French!). The disc is based loosely around gypsies and Spain, with arias from Bizet's Carmen mixed with various zarzuela arias (the Spanish form of operetta), Spanish songs and a few other items with a gypsy or Spanish connection. It is an exciting month for fans of Latvian born mezzo-soprano Elīna Garanča as next week also sees the DVD release of her triumphant Carmen from the Metropolitan Opera with Roberto Alagna as Don José.
Elīna Garanča
Firstly though back to the new CD - 'Habanera'. I think it is a brilliantly conceived album which shows off the agile and seductive voice of Garanča to the full. The repertoire is a mixture of well-known and virtually unknown and I found it particularly nice to hear some of the Zarzuela arias which I didn't know. You can hear a lot of flamenco influence throughout this disc and the accompaniments vary between full orchestra, small ensemble and guitar. The Spanish songs by composers like Falla and Montsalvatge are also particularly effective and in places really quite beautiful.
There is an exciting video trailer for you to watch on the website which the director clearly had a lot of fun making, and features amongst other things a beautiful sunset and some good footage of Garanča riding a horse! I've also given you a short aria from José Serrano's zarzuela La alegría del batallón which I think typifies the general enlightening and delightful mood of this whole disc pretty well.
Carmen is one of the most famous operas of all time, and there have been some great Carmens in the past, but I'm pleased to say that Garanča is right up there with the best. She sings with a seductive and alluring tone, and her technique is superb. The combination of her film star looks and her natural acting draw you into her character completely. As with any great Carmen one minute you feel you should love her, the next hate her, then you feel sorry for her, and so on. From start to finish it is a roller-coaster of emotions and by the end you feel you have been through them all.
Tenor Roberto Alagna also makes an excellent Don José. I think this is one of his strongest roles and he sings with both real power and refinement. In particular he does the rage and jealousy stuff incredibly well.
The performance marked Canadian conductor Yannick Nézet-Séguin's Met debut and his lyrical phrasing and ability to infuse dramatic excitement are yet more reasons to buy this superb recording. This is definitely going to be one of the must-have DVDs of 2010.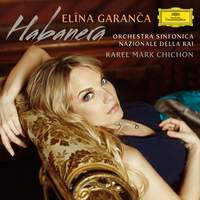 Elīna Garanča (mezzo), Orchestra Sinfonica Nazionale della RAI, Coro Filarmonico del Regio di Torino, Karel Mark Chichon
Available Formats: CD, MP3, FLAC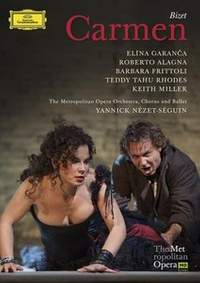 Elīna Garanča (Carmen), Roberto Alagna (Don José), Trevor Scheunemann (Morales), Barbara Frittoli (Micaela), Keith Miller (Zuniga), izabeth Caballero (Frasquita), Sandra Piques Eddy (Mercedes), Teddy Tahu Rhodes (Escamillo), Earle Patriarco (Dancaire), Keith Jameson (Remandado), Metropolitan Opera Orchestra and Chorus, Yannick Nézet-Séguin
Available Format: 2 DVD Videos