4th August 2017
 Recording of the Week

,

  Songs by Richard Strauss, plus the Oboe Concerto and works for wind ensemble
Masterminded by pianist Roger Vignoles, Hyperion's exploration of Richard Strauss's complete song output, which began in 2005, now comes to an end with this eighth volume. This final disc concludes with an intimate account of the celebrated Four Last Songs with Welsh soprano Rebecca Evans, but the lion's share of vocal duties is taken by Scottish tenor Nicky Spence.
Nicky Spence
Any potential fears that there might not have been any gems left to record are immediately and decisively swept away by an impassioned account of Cäcilie. Spence's voice is extremely attractive: lyrical and full of expression, yet also with a bright, ringing top register, ideal for the demands of Strauss's vocal writing. Vignoles is of course magnificent throughout, but especially in this song, which, even for Strauss, has a particularly fiendish accompaniment!
One of the more light-hearted songs is Bruder Liederlich (Dissolute Brother), a tale of a rakish cad who is initially besotted with a young girl, but then starts to find her somewhat irritating and so breaks up with her. Just as he begins to feel sorry for the brutal way that he ended things (in possibly the most elaborate reason ever given in the history of break-ups, he tells her that he can no longer be with her because he has been appointed by the Government to go and buy camels in Samarkand), he decides that the best thing to do is to drink more wine!
With its repeated refrain of "Halli und Hallo", and Strauss's vivid depiction of the young lady's weeping after she has been unceremoniously dumped, it's a song ripe with expressive possibilities. Spence really makes the most of these character songs, both here and in pieces such as Junggesellenschwur (A bachelor's oath), in which a young man explains in great detail that his young lady should stop crying because he will always belong to her (even though he won't be tied down by marriage), or Die sieben Siegel (The Seven Seals), which, despite its portentous title actually refers to seven kisses that will keep his beloved faithful until he returns.
There is also solemnity in amongst the frivolity, whether it be the philosophical musings of the Drei Lieder aus den Büchern des Unmuts (Three Songs from the Book of Bad Temper), or the paeans to love in Gestern war ich Atlas (Yesterday I was Atlas) and Ich sehe wie in einem Spiegel (I see as in a mirror). My favourite song on the disc, though, has to be Die Ulme zu Hirsau (The Elm Tree at Hirsau), a veritable tour de force from Spence and Vignoles, not least with a vocal part spanning two octaves! As beguiling as Spence is in some of the more tender songs, here he also shows how powerful his instrument can be in the higher register. It's a fine way to end the series, and I've also included a link below to the whole lot, in case you missed out on any previous instalments and feel inspired to catch up!
If all of that isn't quite enough Strauss for you, then luckily there is another ravishing disc, out now on BIS, of the Oboe Concerto, performed by Alexei Ogrintchouk, principal oboe of the Royal Concertgebouw Orchestra, who accompany him here under Andris Nelsons. It's an enchanting recording of one of Strauss's most wistful works. Ogrintchouk's tone is sweet and yet robust where required, and the Concertgebouw play wonderfully for him. There's a freedom and a flexibility of pulse that is most impressive, with some outstanding moments, not least an exquisite, all-too-brief passage where the solo oboe duets with the orchestral cor anglais.
It's coupled with two works for wind ensemble: the early Wind Serenade, and the Sonatina No. 2 from much later in Strauss's life. Both pieces, directed by Ogrintchouk, are full of some extraordinarily refined wind playing. Indeed the whole disc oozes charm, grace and style; an utter delight.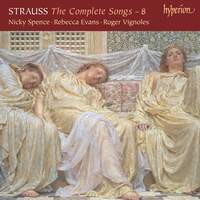 Nicky Spence (tenor), Rebecca Evans (soprano), Roger Vignoles (piano)
Available Formats: CD, MP3, FLAC, Hi-Res FLAC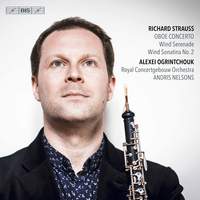 Alexei Ogrintchouk (oboe), Royal Concertgebouw Orchestra, Andris Nelsons (conductor)
Available Formats: SACD, MP3, FLAC, Hi-Res FLAC