2nd June 2017
 Recording of the Week

,

  Steven Osborne performs Piano Concertos by Ravel and Manuel de Falla
After Steven Osborne's highly-praised set of the complete music for solo piano by Maurice Ravel (released all the way back in 2011), I've been keen to hear him tackle the two concertos, and here they are, at last! Ravel himself acknowledged the influence of jazz on these pieces (he had visited the US in 1928, and both concertos date from the early 1930s), and I think you can really hear that in this recording: with a cheeky clarinet solo and some pointed rhythms from Osborne, there were moments in the G major concerto where I could have sworn I was listening to Gershwin!
Steven Osborne
Osborne is joined by the BBC Scottish Symphony Orchestra under conductor Ludovic Morlot, and Ravel certainly gives them every chance to shine: whether it be the showmanship of the trumpet solo or the notoriously tricky horn solo in the G major concerto, or the portentous rumbling of the contrabassoon that kicks off the Concerto for the Left Hand, this recording presents highly characterful turns from the orchestra all along the way, full of flair and great panache.
The second movement of the G major concerto begins with three minutes of solo piano; a tenderly expressive melody that in Osborne's hands is genuinely affecting without lapsing into sentimentality. He plays up the ambiguities of rhythm and pulse that are inherent in the music without allowing them to become distracting. His gentle lament is matched by the orchestra when they finally enter, with moving contributions from solo flute, oboe, and clarinet, and a reassuring warmth in the viola tone. Similarly, when the main melody returns, there's a sublime cor anglais solo, which blends with Osborne's delicate wash of demisemiquavers perfectly.
As impressive as the G major concerto is, for me it's in the Left Hand Concerto that Osborne truly gives us a virtuoso performance: his cadenzas in particular are little short of jaw-dropping. Ravel noted that "in a work of this kind it is essential to give the impression of a texture no thinner than that of a part written for both hands", and he has certainly accomplished that here! Time and again whilst listening I had to dash to my score to check that everything I could hear was actually being played by just the one hand! More importantly, though, Osborne doesn't just treat it as a series of notes: he always manages to maintain the line, and to bring out each phrase effortlessly, no matter what else may be going on at the same time!
A certain Spanish influence undoubtedly pops up in several of Ravel's works (not surprising really, given that his mother grew up in Madrid, and Ravel himself was born in a Basque town not far from the Spanish border), so it's fitting that the third work on the disc should be by the Spanish composer, Manuel de Falla (even more so given that Falla and Ravel used to play piano duets together!)
His Noches en los jardines de España was originally intended to be for solo piano, but at the suggestion of pianist Ricardo Viñes (to whom the work is dedicated), Falla expanded it for piano and orchestra. With its Debussy-like harmonies and textures, it immediately conjures up a balmy evening in a Spanish garden, and Osborne's contribution is ideal, bringing off the many fiendish passages, full of rippling effects, beautifully. As in the Ravel, I was immensely impressed by his ability to shape the melodic line from amongst the myriad effects. It makes for a delightful addition to an outstanding disc!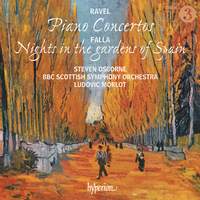 Steven Osborne (piano), BBC Scottish Symphony Orchestra, Ludovic Morlot
Available Formats: CD, MP3, FLAC, Hi-Res FLAC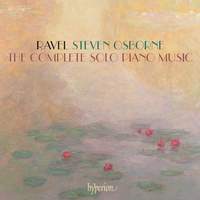 Steven Osborne (piano)
Available Formats: 2 CDs, MP3, FLAC