28th April 2017
 Recording of the Week

,

  I Fagiolini perform Monteverdi's "Other" Vespers
After their recent excursion into luscious 20th-century French repertoire, Amuse-bouche, this week sees I Fagiolini return to their home turf with an imaginative album of sacred works by Monteverdi and his contemporaries. The Other Vespers takes its cue from Robert Hollingworth's observations on the famous 1610 'Vespers'. This staple of concert repertoires today is unlikely to have been performed as a single work in the composer's time, and is more of a collection than a 'work'. Hollingworth identifies the possibility of constructing at least one more plausible Vespers setting from Monteverdi's Selva morale e spirituale of 1641 – the other Vespers.
Members of I Fagiolini
There's a slight nod towards the tendency for early music ensembles today to attempt to recreate specific events – I Fagiolini's focus is on a known instance of Monteverdi conducting Vespers for the Feast of St John the Baptist, so the selection of motets neatly counterparts the 1610 Vespers' focus on the Blessed Virgin and female saints with music devoted to St John.
With an ensemble of I Fagiolini's calibre and pedigree, impeccable musicianship is a given, and this album is no exception; the singers, as well as the musicians of the English Cornett and Sackbut Ensemble, are on fine form as ever. One thing stands out, though – the use of ornamentation, chiefly from the two soprano cornettists Gawain Glenton and Andrea Inghisciano. Hollingworth quite rightly sings their praises in his accompanying notes, and their effortless passagework is truly spectacular – right from the very first antiphon, in which Inghisciano really struts his stuff over the top of the choir's broad chords.
You'd think that with this being Monteverdi's 450th anniversary year, a disc of music from his time would not be likely to contain a premiere – but amazingly enough, there is a world-first on this album. The Palestrina/Bovicelli Ave verum, which features the haunting sound of the cornetto muto over the male voices, is a reconstruction of a contrafactum made (or at any rate suggested) by Bovicelli of Palestrina's secular madrigal Io son ferito, ahi lasso which has never been performed or recorded before. The unique sound-world, coupled with some wonderful uses of dissonance, make this one of the highlights of the disc.
While much of Hollingworth's aim with The Other Vespers seems to be to bring less-heard works to light – in particular in his decision to intersperse items by other composers of the period among the Monteverdi settings – there are, of course, some old favourites here as well. The powerful Dixit Dominus makes an appearance, as well as an unexpectedly lively Beatus Vir (a work which, in my opinion, closes with the finest 'Amen' ever written… alternative preferences on a postcard!)
It would be remiss of me to close without mentioning The 24 – Hollingworth's choir composed of undergraduates at the University of York, who sing as a ripieno in tutti sections to offset the more virtuosic solo-voice passages. If I hadn't checked the sleeve notes, I wouldn't have known that this that was a choir of young singers, or indeed anything other than an expanded I Fagiolini; their blend with the soloists is impeccable.
The word that always springs to mind when I listen to this kind of Venetian music, be it Gabrieli or Monteverdi or any of their contemporaries, is 'magnificent', and this album amply demonstrates why. Hollingworth and his musicians perfectly capture, as they have so many times before, the simultaneously solemn yet joyful spirit of the music, and once again I find myself transported by their performances to the glorious acoustic and surroundings of San Marco.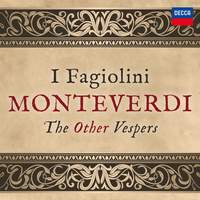 I Fagiolini, Robert Hollingworth
Available Formats: CD, MP3, FLAC, Hi-Res FLAC