20th December 2016
 Interview

,

  Jamie Barton on All Who Wander
Jamie Barton's double victory at Cardiff Singer of the World in 2013 has to have been one of the most memorable triumphs in the competition's history. Not only did the exuberant Georgia-born mezzo's vivid personality come across equally potently in both operatic and song literature (as well as in tragedy and comedy), but the voice itself proved to be a real force of nature: the thrilling power and amplitude on display in her chosen arias by Cilea and Berlioz in particular heralded the arrival of a great dramatic voice that's sure to make waves in Wagner, Verdi and verismo in the none-too-distant future. All of this promise has certainly come home to roost over the intervening three years, which have seen Jamie make hugely impressive debuts at the Metropolitan Opera, Covent Garden, the BBC Proms and the Wigmore Hall, to name but a few.
I've been fielding enquiries about recordings by Jamie ever since the Cardiff concert was broadcast, and when her long-awaited solo debut disc hit my desk this autumn it certainly didn't disappoint: in fact her impassioned account of Mahler's Rückert-Lieder caused at least two of my colleagues to down tools to attend to 'something in their eye'... I caught up with her last week just as rehearsals got underway for the Met's productions of Nabucco and Rusalka (in which she'll sing Fenena and Ježibaba) to find out more about her affinity for Slavic and Scandinavian song, the concept behind the new disc, and her plans and dreams for the future.
Tell us a little about how the concept for this disc came together – did you start with that Romantic idea of the wanderer and build a programme around that, or did you always have a particular cycle in mind for your first solo recital disc and choose the other repertoire to complement it?
When Brian [Zeger, the pianist] and I sat down to decide what would be on this album, he was incredibly open to hearing what composers really struck my ear. I think the first one I felt a strong pull to was Sibelius – I'm simply in love with his vocal writing! The Dvorak Gypsy Songs seemed like a complementing group, and was one I was just beginning to do in recital, so we decided to add those in. Beyond that, we both felt a pull towards doing some lieder, and vacillated between several composers before really deciding on Mahler. For me, it made sense to have Mahler along with these two other composers and groups. The themes of nature and of folk-inspired classical writing in both the Sibelius songs and the Gypsy Songs made it a no-brainer to pull Mahler in. To me, his writing is such an ethereal telling of earthy, folk inspired poems, and I've always been a massive fan of his music. Brian agreed, and thus the plan was hatched!
Sibelius seems to have a special place in your affections – his songs featured in your winning programmes for both the song prize and the orchestral final for Cardiff Singer, as well as on the new disc. When and how did you first fall in love with this repertoire?
I first fell in love with Sibelius through my second voice teacher, Mary Ann Hart. She's my "song lit guru" – truly, she knows so much of the art song repertoire that is available, everything from the classics to much lesser known works than Sibelius' vocal writings! I went to her several years ago as I was starting to look for new recital fodder, and asked if she had any suggestions. The next thing I know, she had made me four mix CDs of music she thought I should look into! There were many absolute gems on these CDs, but the ones that stole my heart entirely were the works of Sibelius. (Funnily enough, the other contender for my affection was the Dvorak Gypsy Songs!) I've been hooked ever since. I learned five of the songs to perform on a group recital at Carnegie Hall for Marilyn Horne's birthday week, and have carried them with me ever since. There is something about these songs that really hooks me... Each one of them, no matter what the subject matter may be, seems to be made of life and guts – complete, unabashed life and truth. Whether it be the fluttering heart of Kyssens Hopp, the gut-wrenching cry of Säf, säf, süsa, or the building glory of the springtime blooming from the dead of winter in Marssnön, I hear this very real, very relatable thread of human experiences. That kind of writing is magnetic to me.
You're pretty linguistically adventurous – it's not every singer who takes on Czech and Swedish repertoire! Do these languages pick up particular colours in your voice, do you think, and how challenging has it been to master them?
I think it's less that I'm linguistically adventurous, and more that quite often I just happen to fall in love with music that is set in languages that are not the typical classical music languages! I came to study this craft a bit late (I started in 2000 when I entered college for my undergraduate degree), and hadn't had much experience with foreign languages before that. Which is just to say that it wasn't long ago that French might as well have been Swedish to me! Of course, nowadays, I'm much more comfortable with German, French, and Italian, but I feel like I'm very much still a student even when it comes to these common languages. And so, why let languages be a barrier to singing music that calls to me? For me, it requires a little extra work, but it's worth it. These songs – such as the ones on All Who Wander – have a way of pulling colors out of me that others may not because of the incredible musical storytelling. They just happen to resonate with me, and perhaps it's that connection to them that pulls something "extra" out of me when I'm singing these stories.
Speaking of Czech repertoire, you've got Ježibaba coming up at the Met in the spring…do you see any similarities between her music and the world of the Gypsy Songs?
Oh yes... There is definitely something familiar in Ježibaba! Setting aside the obvious aspect of both of these works being composed by Dvorak, there is this earthiness, and a near inability to be anything other than honest (sometimes brutally so) in the Gypsy Songs that I find in Ježibaba as well. It's not just in the text – Dvorak really translates that into the music as well. Of course, Ježibaba is maybe just a tad more sinister... :)
All of us in the Presto office are itching to hear you sing some orchestral Mahler now! Are the symphonies and orchestral song-cycles going to be something that figures in your future, and which singers do you particularly admire in this repertoire?
Oh, I'm itching to do more orchestral Mahler as well!! I've been inspired by MANY singers to do these songs – Christa Ludwig, Janet Baker, Jessye Norman, and Thomas Hampson are just a few off the top of my head! I do already do some – Mahler's Third Symphony and Das Lied von der Erde are two I've gotten to do with orchestra. I'm chomping at the bit to do a Mahler 2 (Urlicht is one of my favorites!), and I'd honestly love to finally get to sing the Rückert-Lieder with an orchestra. I can imagine that singing something like Ich bin der Welt with an orchestra would be a sublime – nearing on spiritual – experience.
You've got some exciting role-debuts coming up this season, including that Met Rusalka and Eboli in Don Carlo in Berlin next summer – what's on your long-term wish-list in terms of operatic roles?
There are several roles I'd love to get my grubby little singer paws on! Carmen is the first one who comes to mind ¬– I'm absolutely in love with the music, as well as the psychology of that character. I'd also love to add some more Wagner to my docket – a Brangäne (Tristan und Isolde), maybe a Venus (Tannhäuser) or maybe later an Ortrud (Lohengrin). (It's my dream to sing at Bayreuth someday!) I also dream of singing something like Amneris (Aïda), but we'll see where the voice goes!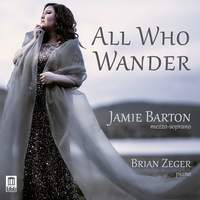 All Who Wander was released on Delos last month.
Available Formats: CD, MP3, FLAC, Hi-Res FLAC