UPDATE: Royal Mail have now resumed shipments on their TRACKED, TRACKED & SIGNED and SIGNED services but delays should be expected, please choose these services if available to you or FEDEX if your order is urgent.
9th September 2016
 Recording of the Week

,

  John Eliot Gardiner conducts Mendelssohn symphonies with the LSO
Mendelssohn's Fourth Symphony (popularly known as the Italian), must surely have one of the most joyous openings in the repertoire, and that's certainly the case with this new recording by the London Symphony Orchestra under John Eliot Gardiner; right from the off it's infectiously smile-inducing, with delicately chirping woodwind and rhythmically incisive contributions from the strings.
Sir John Eliot Gardiner
Gardiner is a stickler for Mendelssohn's phrase markings, not least in the second movement where he takes care to observe different articulations for notes that are under a slur and those that aren't. It's a tiny point, but it makes all the difference. I'm sure it's no coincidence that Gardiner's experience with the music of JS Bach makes Mendelssohn's own love of Bach more evident than usual here: with its slow-moving melody on top of a determined cello and bass line moving largely in quavers, it could almost be a movement from a Bach cantata.
The final Saltarello, a fast Tuscan dance derived from the Italian word for jumping, is most impressive, and Gardiner certainly ensures that the players are kept on their toes with a swift tempo necessitating some nimble triple tonguing from the woodwind. Nobody puts a foot wrong, and the clarity that the strings bring to some of their more fiendish passages is quite remarkable. It's a dazzling end to a pleasingly characterised performance of this radiant symphony.
Written when Mendelssohn was fourteen, his First Symphony is quite a debut. For me the most remarkable movement is the Andante, which, whilst presenting a relatively simple melody, is full of astonishing harmonic twists and turns: it's incredibly daring, often visiting unusual keys and full of pungent, unexpected dissonances. At a gently flowing tempo Gardiner makes this performance a genuine delight, with charming woodwind and some effortlessly elegant interjections from the violins.
This movement also highlights another performance practice that Gardiner is keen on: no vibrato. If you're used to a more Romantic style then the long notes from the flutes, played straight and without the slightest hint of wobble, might come as a slight shock! Also, there's a passage about three minutes into the movement where the cellos are given a prominent melody, which one might naturally expect to be performed with full, singing tone, and yet here it takes on an almost eerie quality that is quite striking. Certainly there's no shortage of warmth from the LSO playing, but it is a fascinating example of how different styles of performance can substantially change the mood of a piece even with exactly the same notes on the page.
Originally the third movement was a six-minute Minuet, but when Mendelssohn came to London in 1829 to perform the piece (five years after he had written it), it seems he wasn't exactly happy with this movement anymore, writing to his parents how it was monotonous and bored him to tears! So, he replaced it by reworking the Scherzo from his Octet. Gardiner here elects to include both versions within the main body of the symphony. Of course you could programme out one of the tracks if you wanted to, but personally I find this arrangement functions very nicely as a five-movement symphony, with enough contrast in mood to keep things interesting.
With this new disc, as well as outstanding recordings of the Scottish and Reformation symphonies already under their belt, the LSO and Gardiner continue to offer a wonderful cycle of these symphonies: just the Second Symphony (Lobgesang) to come now, and I look forward to hearing that in the future!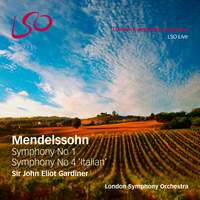 London Symphony Orchestra, John Eliot Gardiner
Available Formats: SACD + Blu-ray Audio, MP3, FLAC, Hi-Res FLAC