22nd July 2016
 Interview

,

  David Wordsworth on Lennox Berkeley
Dedicated to Benjamin Britten (who conducted the first performances), Lennox Berkeley's Stabat Mater was premiered in 1947 and is undoubtedly one of the composer's most distinctive and powerful works - but we've had to wait until today for the first recording of the piece to become available, courtesy of the conductor David Wordsworth, the Marian Consort and Delphian Records.
I got in touch with David (an ardent champion of Lennox Berkeley, who's long nurtured an ambition to record the piece) recently to find out more about the challenges posed by this unusual and demanding work, and about Berkeley's evolution as a composer of sacred music.
Why do you think the Stabat Mater has been performed so rarely?
I think part of the problem is that you need six singers who are good soloists but who are also able to blend with each other, plus twelve superb instrumentalists – it's not a song-cycle, it's not really a choral piece…It kind of falls into a little hole in the middle somewhere! The vocal parts are on the one hand quite operatic, quite dramatic, but on the other they're very straight and focused. It's a very hard piece to programme, I think, partly because of the quality of singers and instrumentalists it requires – also what does one programme with it? Perhaps also because Berkeley is one of those composers who's fallen through the cracks a little bit - he's perhaps not as well-known as Britten or Walton, but he should be, he has a very particular voice and a piece like the Stabat Mater shows a rather more passionate and intense side of his musical character. It really is a major statement.
You've wanted to record this for many years: how did you hit upon the Marians as being the group you needed for this?
Well I can't really take credit for that – the suggestion actually came from my friend, the composer Gabriel Jackson. He knew that I very much wanted to do the piece and suggested that I listen to the Marians. I first conducted it something like 26 years ago, in a memorial concert for Lennox in 1990, at St Giles Cripplegate. I didn't know the piece at all, but when I got the score it completely knocked me out: I thought it was a masterpiece, so I've been itching to record it for years. And then I became chairman of the Lennox Berkeley Society, and they were keen to record as well, but I hesitated because I wanted the right kind of voices...It was written for the English Opera Group, to go on tour with Albert Herring and The Rape of Lucretia, and the voices and instruments match the scoring for those pieces: they were the resources on offer, and so Britten asked Lennox to work with that. I wasn't so keen on putting together a kind of random group of soloists for the recording.
Was there also an element of wanting 'cleaner' voices?
I suppose so, yes - the piece is in a way a kind of conducted chamber music that requires the singers and instrumentalists to really blend. Now I'm not saying that more conventional soloists wouldn't do that, but it's just more natural for a vocal ensemble, that work together a great deal and sing a lot of early music as well as more recent work. This of course means that the seventh movement, which was originally written for a female voice, is now sung by the countertenor and Director of the Marians Rory McCleery - but he does it wonderfully and it really works. I like to think that Lennox would have approved of this.
Are there plans to record any other sacred works - I believe there's a Jonah, for instance...?
Gosh, I'd love to! There is indeed a Jonah, which is a large-scale pre-War oratorio - a vocal score exists, but I think the orchestral material's been lost. Lennnox was a devout Roman Catholic, and I think the sacred music speaks particularly strongly. Quite a lot has been recorded already, particularly the church music, but there are some gaps, an early choral/orchestral piece called Domini est Terra, for example.
Do you feel that Britten's influence is apparent in the Stabat Mater (and indeed throughout Lennox's career)?
I think it's certainly there, but it became less obvious when Britten went to America and Lennox was able to become his own man a little bit more. I think the influence of Britten is fairly slight in the Stabat Mater - there's more Stravinsky I think, and even a little bit of Poulenc, but I think it's completely individual as well!
Lennox, like all good composers, cheerfully pilfers from lots of sources, but the important thing is that it comes out sounding like Lennox Berkeley. Particularly in the more lyrical movements, I think there's a very personal melodic voice - he really sounds like nobody else!
The disc includes some of Michael Berkeley's work as well: how much influence do you think Lennox had on Michael's choral writing, or are they very distinct voices?
Michael, I think, was much more influenced by later twentieth-century developments, though a love for the voice comes through, and there is definitely a lyrical side to Michael's language.
How much had Lennox's style altered between the Stabat Mater and the later works on the disc?
Well, he went through a period in the late fifties and early sixties where he felt that everybody around him was experimenting with things like twelve-tone technique, but I don't think he was ever really convinced it was for him. There are certain pieces that use the twelve-tone row, but it's not strict in any way. It is true to say that the Mass is a little bit more austere - and it comes from that period [1964], but it is still remarkably beautiful and still recognisably by the same composer.
He was engaged, certainly, with developments in music, but ultimately he had his own voice and he wanted to develop that rather than to experiment for the sake of experimenting!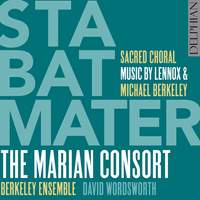 Stabat Mater: Sacred Choral Music by Lennox and Michael Berkeley is released today on Delphian Records.
Available Formats: CD, MP3, FLAC, Hi-Res FLAC