29th January 2021
 Recording of the Week

,

  John Wilson conducts English music for strings
"This is almost certainly the very finest recording of English string music." So said The Penguin Guide to Recorded Classical Music of Sir John Barbirolli's 1963 album of works by Elgar and Vaughan Williams with the Sinfonia of London. It is an opinion that we wholeheartedly shared when we compiled our list of the Greatest Recordings of the 1960s a few years ago.
Equally willing to sing that recording's praises is conductor John Wilson: when I interviewed him last year, he enthused not only about how special that album was to him (it was the first LP he ever bought) but furthermore that it was a significant reason behind wanting to use the same name for his new orchestra. It was fairly inevitable, therefore, that at some point he should record a complementary album of his own. He does not, however, repeat any of Barbirolli's repertoire, but instead offers a quartet of works for string orchestra by Benjamin Britten, Frank Bridge, Lennox Berkeley, and Arthur Bliss.
Right from the determined opening bars of Britten's Variations on a Theme of Frank Bridge, it's clear that this too is an exceptional album. There's a richness and sumptuousness to the string sound that is truly thrilling, not least in the lower strings, who treat us to some gloriously lustrous chords that provide a pleasingly luxuriant bedrock to the entire ensemble.
Also evident is the virtuosity of all involved, especially in the 'Aria Italiana' variation, in which first violins imitate the florid vocalisations of a coloratura soprano, accompanied by animated, guitar-like strumming from second violins, violas, and cellos. What most impresses is not only the effortless manner with which the players despatch their flurries of notes, but how they respond just as magnificently to every nuance of dynamics and articulation: I can't recall many other ensembles who, like a flock of birds moving as one in the sky, are able to adapt and adjust so quickly and single-mindedly.
The variations require slipping in and out of various genres: from the aforementioned Italian aria to a pastiche of an English Romance, the grace and delicacy of a Classical bourrée, the sombre tread of a Funeral March, or the dizzying whirlwind of a Viennese waltz, there is seemingly no style that Wilson and his players cannot judge and execute to perfection.
The range and depth of sound I mentioned earlier is similarly present in the other three works, with the husky, veiled timbres of Frank Bridge's Lament beautifully contrasting with the sunny joie de vivre of Lennox Berkeley's Serenade for Strings which follows it. The Scherzo of this latter work aptly demonstrates the precision that is the hallmark of this orchestra, with every note of fiendish passagework immaculately placed whether in the highest extremities of the first violins or the very lowest rumblings of the double basses. The concluding 'Lento' movement brings an Elgarian nobility that culminates in a satisfyingly serene final chord.
Much like Elgar's Introduction and Allegro and Vaughan Williams's Fantasia on a Theme by Thomas Tallis, Arthur Bliss's Music for Strings makes good use of exploiting the differing sonorities of a group of solo strings against the weight of the full string orchestra, particularly at the end of the first movement and the opening of the second, a tender rhapsody that is most affecting.
I was going to say that this is almost certainly the very finest recording of English string music, but I believe that phrase has already been used elsewhere. Still, for me this is undoubtedly an equally strong candidate for such an accolade. I really can't fault it. Bliss, indeed...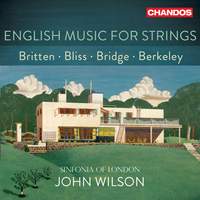 Sinfonia of London, John Wilson
Available Formats: SACD, MP3, FLAC, Hi-Res FLAC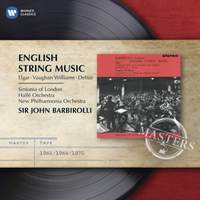 Sinfonia of London, New Philharmonia Orchestra, Hallé Orchestra, Sir John Barbirolli
Available Formats: MP3, FLAC