10th June 2016
 Recording of the Week

,

  Tchaikovsky Symphonies conducted by Vasily Petrenko
With their outstanding recordings of Shostakovich symphonies in recent years, Vasily Petrenko and the Royal Liverpool Philharmonic Orchestra have demonstrated their considerable credentials when it comes to Russian music, and a disc out today continues this expertise, with the first instalment in their cycle of complete Tchaikovsky symphonies. This release couples the ever-popular Symphony No. 5 with the first two symphonies, perhaps less frequently recorded than the Fifth, but no less worthy of the attention to detail to which Petrenko treats them here.
Vasily Petrenko
Available recordings of the Fifth must number in the hundreds, and so any new offering is going to have to do something special to stand out from the crowd. Thankfully that's exactly what we get here. It seemed to me whilst listening to this performance that in some ways Petrenko's approach is a straightforward one: just do what it says in the score! He takes such care to observe every accent and dynamic marking; this is evident right from the start, where a dark clarinet sound is accompanied by chords that are thoughtfully articulated rather than just plonked down.
This holds true throughout: a potential danger with the "big tune" in the closing part of the work is that it can easily come off as just a load of notes strung together any old how, but in the Moderato assai section (the final moment of grandeur before the dash to the finish line), I was very impressed with how Petrenko shaped each phrase, slightly shortening a note here and adding a slur there in order to sculpt a melody that actually feels as if it is going somewhere. Indeed, a few of these decisions were different to the "usual" way (if there is such a thing) of phrasing this theme, so it was a pleasingly fresh take on a melody that I must have heard a thousand times before!
Speaking of this final section, the closing Presto, taken at a breakneck speed, is extremely exciting, with some nifty passagework from the wind and strings, and a majestic trumpet sound that is loud without being painful. This is not the only place where some of Petrenko's tempos are blisteringly fast: the third movement of Symphony No. 2 is almost impossibly swift, and the Finale of the First Symphony is similarly taken at quite a lick. The Liverpool strings are fantastic here, maintaining clarity and precision even when presented with a seemingly endless flurry of quavers whizzing by at a hundred miles an hour.
As well as technical proficiency, Petrenko and his orchestra bring tremendous amounts of character: again in the last movement of the First Symphony, there's a passage where bassoons, violas, and pizzicato cellos engage in a melody that put me in mind of some sort of Cossack dance – it's very well executed indeed. The strings are great, throughout, actually: as well as their flawlessly executed passagework, they have an extraordinarily varied sound, from the rich, warm tone at the start of the Fifth Symphony's final movement, to their amazingly dusky, veiled timbre when they perform with their mutes at the start of the second movement of Symphony No. 1.
The woodwind are on top form as well, not least an elegant bassoon solo in the third movement of the Fifth with some charming use of rubato. Furthermore, the Fifth Symphony is aided in no small measure by the wonderful brass playing: the trumpets and trombones have a biting quality to their sound that cuts through easily but doesn't obliterate the rest of the orchestra. I should also make special mention of some very stylish horn moments: not just the famous solo in the second movement of the Fifth, but also some beautifully shaped playing in the first movement of Symphony no. 2.
So, this is a fine start to the series: a second volume is due out next January, and I for one can't wait to hear what they do with the Pathétique in particular!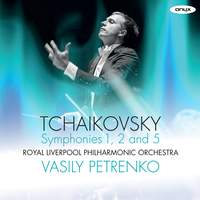 Royal Liverpool Philharmonic Orchestra, Vasily Petrenko
Available Formats: 2 CDs, MP3, FLAC, Hi-Res FLAC