17th March 2016
 Interview

,

  Carolus IV: Rex et Imperator
Tomorrow sees the release of an intriguing new disc from Czech early music choir Schola Gregoriana Pragensis, marking the 700th anniversary of the birth of Holy Roman Emperor Charles IV; our thanks to Supraphon and their UK distributor RSK for kind permission to share this interview with the group's artistic director, David Eben.
"Under the reign of Charles IV (1316-1378), Prague acquired its magical beauty. The astonishing wealth of art and architecture that originated at the time is evident at first glance, yet the King also attended to the blossoming of the city's spiritual and cultural life. While Saint Vitus Cathedral was the most prominent centre of music, variegated genres also flourished at the Prague University (Latin sacred songs and French ars nova) and at the Emmaus Monastery, founded by Charles with the aim to pursue the Slavonic liturgy. Czech songs ("The Bundle of Myrrh", "The Wood Clads Itself with Leaves"), which linked up to the tradition of German Minnesang, were performed in Prague too.
Generally known is Charles IV's reverence for saints and the attendant passion for collecting relics of holy men. The King even initiated the introduction of the Feast Day of the Holy Lance and Nails, part of whose chant repertoire is featured on new album Carolus IV. recorded by the renowned Schola Gregoriana Pragensis ensemble and the soprano Hana Blažíková. Art director of Schola Gregoriana Pragensis David Eben unveils more about this extraordinary recording and its background in our generic interview below…"
Most Czechs are familiar with the basic facts about Charles IV's life and the great accomplishments during his reign, including Saint Vitus Cathedral, Charles University and Charles Bridge. But what about the music performed in his era? Have any music materials dating from Charles's time been preserved?
Well, unfortunately, we will not find any fourteenth–century recordings (laughs), yet we do have available a relatively large amount of manuscript notations. One of the new album's objectives was to capture the music played during Charles's life and rule. Charles IV is usually referred to as a monarch under whom Prague enjoyed an enormous construction boom, an architectural transformation, as well as a fine art flowering, yet he is not overly known as a music lover. None the less, I would go so far as to claim that music was part of Charles's everyday life. First and foremost, it was liturgical music, as divine services formed an integral part of his political agenda. His aim was to turn Prague into a centre of the Holy Roman Empire, not only the city of government and Imperial seat, but also a spiritual centre. And this intention also entailed acquiring relics of saints, which he usually donated to Saint Vitus Cathedral.
What is the programme of the new album?
When I was putting together the album's repertoire, I compiled a sort of itinerary of the subjects that we wished to include in the CD. Logically, we started with France and the music Charles may have listened to during his youth, spent at the French court. Naturally, we also had to feature the chants sung on the church holidays that Charles IV directly initiated; for instance, the Office for the Feast Day of the Holy Lance and Nails. At the same time, we strove to encompass other spheres of the contemporary culture: secular music, Czech and German love poetry, in which historical instruments are applied. We also paid great attention to the musical milieu at the Prague University, then an educational institution of Europe-wide significance, which evidently reflected in the music too.
Does the album merely feature music by anonymous composers or does it also contain pieces whose composers are known?
The medieval music was fundamentally anonymous. This primarily applies to sacred songs, the faces of whose creators were concealed beneath monastic habits. Yet when it comes to the late Middle Ages, we know a little bit more about the composers. One such medieval detective investigation was carried out in relation to the Office for the Feast Day of the Holy Lance and Nails. In one of the manuscripts, I ran across a unique piece of information, claiming that the chant was written by one "Magister Pisanus", who composed directly to commission for the Emperor. For the time being, we do not know who exactly this Master of Pisa was. He may have been an Italian cleric from among Charles's circle, but we cannot rule out that the monarch may have entrusted the Office to someone en route to his coronation in Rome, when he stopped over in Pisa. Anyway, the investigation continues, the list of suspects is being narrowed down and I hope that one day I will discover the culprit.
The composers' names have more often been preserved as regards polyphonic music. In France, these include the poet and composer Guillaume de Machaut, who was the secretary to John of Luxembourg and appears to have been the most celebrated fourteenth–century music creator. One of his pieces is featured on our album.
The "Carolus IV" album also contains recordings of works sung in Church Slavonic. Where did you come across them?
This section of the album is closely linked with Charles IV's foundation activities. He wished to have all the liturgical traditions of Western Christianity represented in Prague. During one of his trips, he visited the Dalmatian town of Senj and met with the local Benedictines, who were singing Western liturgy in Slavonic. Shortly afterwards, Charles established in Prague the Emmaus Monastery, whose task it was to cultivate liturgy and literature in Church Slavonic. The monastery's foundation may have also been influenced by the fact that Charles IV proudly professed his Slavonic roots, owing to the family of his mother, Elizabeth of Bohemia. Regrettably, none of the Emmaus Monastery's liturgy books have been preserved. Nevertheless, we do have available today at least a minor example of this type of music, owing to a fragment recently discovered in Ljubljana, with the song Alleluia written on it having been reconstructed. Hence, it has appeared on our album, resurrected after many centuries.
Where did you record your album?
Work on a CD featuring this type of repertoire places very specific requirements on the actual recording space. We sought a place acoustically favourable, a place in which there are good conditions for singing, as well as absolute peace and quiet, which is virtually impossible to find today. Yet we were lucky and did manage to find such a place, in Zbraslav, Prague.
This selection also pleases me for symbolic reasons, since when in 1333 Charles IV returned to Bohemia after a long absence, his first steps led him to Zbraslav, to visit the grave of his mother, Queen Elizabeth. My idea was that this place would blend together the past and the present.
How do you personally perceive the significance of Charles IV's legacy for today's world?
I think that I have had an increasing awareness of the international dimension of Charles IV's reign, which had a considerable impact on the situation in Bohemia. In his time, the Prague University was a really cosmopolitan milieu. Charles IV concentrated in Prague various liturgical traditions, he brought here distinguished artists. He even lured the poet Petrarch to move to Prague. Nationality did not play any role whatsoever at his court. My impression is that at the time Bohemia was an open country, and we have been harvesting the fruits of this multicultural climate up to the present day. I hope that we can pursue Charles IV's legacy in the current – still open – Europe.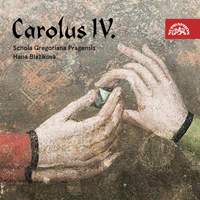 Carolus IV: Rex et Imperato is released tomorrow on Supraphon.
Available Format: CD