23rd February 2016
 Coming Soon

,

  Five new projects from Opera Rara
Opera Rara unveiled their plans for the next couple of years on Friday, at a lovely lunchtime launch at The Coliseum. Perhaps the biggest news of the day was, on the face of it, rather more mainstream than many of their undertakings: the prospect of a new Semiramide, due to be recorded in August with a concert-performance to follow at the Royal Albert Hall on 4th September...
Rossini's final Italian opera may make relatively regular appearances in the opera-house, but it's had comparatively few outings on record. Elder believes that there is 'something to be said that has not been said before', and is preparing a new, uncut account of the score on period instruments (the Orchestra of the Age of Enlightenment, no less) that will foreground 'the Classical style that the piece deserves'. His cast will include the Russian dramatic coloratura soprano Albina Shagimuratova (an internationally-acclaimed Queen of the Night) in the title-role, Daniela Barcellona as Arsace, Ildebrando D'Arcangelo as Assur, and Javier Camarena as Idreno.
But before Semiramide comes the first-ever studio recording of Bellini's first opera, Adelson e Salvini, which will be recorded in May with Lawrence Brownlee as Salvini, Simone Alberghini as Lord Adelson, Daniella Barcellona as Nelly, with Daniele Rustioni conducting the BBC Symphony Orchestra. Written in 1825 as the composer's graduation-piece for the Naples Conservatory and extremely popular with his peers (though not performed professionally until the 1980s), the two-act 'opera semi-seria' owes much to the influence of Paisiello and Cimarosa as well as providing tantalising glimpses of Bellini's distinctive emerging voice. The recording will use the original version of Bellini's score in a new critical edition by Ricordi, with appendices also recorded, and a concert performance in London scheduled for 11th May.
Further down the line, February 2017 will see a recording of Gounod's 1858 opéra comique Le Médecin Malgré Lui, with the Hallé and rising young conductor Nicholas Collon (perhaps most familiar for his work with his own Aurora Orchestra, including a stunning off-copy Beethoven Pastoral at least year's Proms). Championed by Berlioz (who described it as 'Gounod at his best'), and based on a play by Molière, the work tells the story of a boorish woodcutter duped into acting as a physician for a young noblewoman who is feigning illness to delay marriage to an undesirable suitor - eventually to everyone's mutual advantage.
Elder and the OAE return in December 2017 to continue in the French vein with Offenbach's three-act opéra-bouffe La Princesse de Trébizonde (the only studio-recording of which is from 1956, in Russian!). Premiered in Baden-Baden in 1869 and later reworked for Paris audiences, the tale of a circus-performer's daughter who turns herself into a wax figure was initially very well received and much revived internationally during the 1870s, but has since fallen into obscurity. Donizetti's L'ange de Nisida (which Donizetti never saw performed due to the bankruptcy of the commissioning theatre company, but eventually reworked as La Favorite) will follow in July 2018, with Elder once again at the helm. Casting for these last three projects is still TBC - more details when we receive them!
Recent and related recordings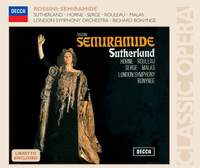 Joan Sutherland (Semiramide), Marilyn Horne (Arsace), London Symphony Orchestra, Richard Bonynge
Available Formats: 3 CDs, MP3, FLAC