It's just over two years since Beatrice Rana scooped the Silver Medal and the Audience Award in the Van Cliburn International Piano Competition, and since then the young Italian pianist has gone from strength to strength, with discs of Bartók, Ravel and Schumann on Harmonia Mundi, and Chopin and Scriabin on ATMA Classique.
She subsequently signed to Warner Classics, and recorded her debut concerto album of Tchaikovsky and Prokofiev concertos with Antonio Pappano and the Orchestra dell'Accademia Nazionale di Santa Cecilia in Rome in July. I caught up with Beatrice over email shortly after she gave a formidable account of the Prokofiev concerto at London's Royal Festival Hall, which prompted Classical Source to remark that "Not only were the technical challenges of this hugely demanding work fulfilled, but Rana convincingly demonstrated how much value can be placed on the romantic element that lies beneath the surface of what is often viewed as a barnstorming virtuoso piece."
You've chosen two of the most challenging and frequently recorded concertos in the repertoire to make your recording debut on Warner: have these works played a special part in your career to date, and does Russian repertoire hold a particular attraction for you?
Both concertos have a very special place I my heart since I played them in those life changing experiences such as competitions. But actually, this is not the main reason why I chose to record them. The input came from Maestro Pappano, who listened to me playing the Tchaikovsky concerto and insisted on recording it: and then the choice of Prokofiev second came naturally, as I thought it would have been a good idea to couple these two extremely dramatic and revolutionary works.
Of course Russian music has a great attractive power on me, but I wouldn't pick it as a favorite: I just play what I feel close to, independently from which period it belongs to.
Competitions have played an important in your career so far - do you approach them in as you would any other performance or with a different mindset, and do you intend to continue entering them now that you've a record contract in the bag?!
The purpose of entering competitions is to get opportunities to play concerts and to get known as a concert pianist. Therefore I always approached them with the same seriousness and emotional power as I would play in concert. Therefore, also, I don't think at this stage in my life competitions would be useful anymore: I got the most I could from those I did, and what I really need now is to focus on what's next and enrich my repertoire.
Tell us a little about your relationship with Pappano and the Santa Cecilia Orchestra - had you worked together much before the recording, and how much did your approach to the two concertos evolve in the course of your collaboration?
I already played the Tchaikovsky concerto with the Santa Cecilia Orchestra before, but the recording was my first collaboration with Maestro Pappano, even though we knew each other before and I admired him so much. Working with him and with his own orchestra was greatly inspiring: it sounded like working with a single entity! Those recording sessions have been as intense as the music we were playing and, as the time went by, we didn't even need to discuss anymore: everything was coming out in a natural way! Also, working with such an experienced recording conductor, I felt extremely lucky to have a guide on my side for my first record with orchestra.
So what's next in terms of your recording plans: can we expect another concerto disc or a solo recital?
It's going to be a solo recital (Bach related) but I can't say anything more at the moment!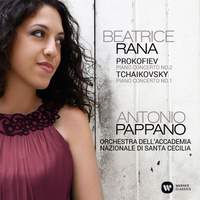 Beatrice Rana's recording of Prokofiev & Tchaikovsky concertos with Antonio Pappano and the Orchestra dell'Accademia Nazionale di Santa Cecilia was released on 27th November.
Available Formats: CD, MP3, FLAC, Hi-Res FLAC