27th November 2015
 Recording of the Week

,

  Sol Gabetta plays Pēteris Vasks
This week's disc features cello works by the Latvian composer Pēteris Vasks – one of a generation of Baltic writers who have been overshadowed by the popular Estonian minimalist Arvo Pärt, but are gradually emerging as musical voices in their own right. The soloist is Argentine cellist Sol Gabetta, for whom the first work, a concerto entitled Klātbūtne ("Presence") which receives its world-première performance here, was in fact written.
It follows an inverted form of the conventional quick-slow-quick format for concertos – echoing, indeed, the structure of Vasks' violin concerto, Distant Light, which Renaud Capuçon recorded early last year. Opening with a meditative cadenza that emerges out of the lowest open strings, it immediately sets a cantabile mood, and the cello wanders alone for a full four minutes before the orchestral strings enter. The use of the cello – one of the instruments closest to the human voice, in many ways – to represent a concerto's "protagonist" is a well-established approach, and Vasks' new concerto sits squarely in this tradition.
Sol Gabetta
While some have rejected these recent, defiantly tonal European writers as purveyors of mere ethereal ear-candy not worth taking seriously, all is certainly not sweetness and light in Vasks' world; his allegro central movement is where, in his words, negative ideas and feelings of aggression are "processed". Acerbic dissonance is now the order of the day, with some choppy writing for the cello elbowing its way through an orchestral texture suddenly full of seconds and sevenths. Here too, though, Vasks clearly can't resist giving Sol more beautiful lyric passages to enjoy, even if their impassioned climaxes are cut off by the return of more aggressive material from the strings. Much of this material put me in mind of Shostakovich – who must surely have been a major influence when Vasks was finding his musical voice.
I've referred in passing to the cello singing – a common enough figure of speech – but in this concerto the cellist also sings. After the final shriek of the second movement, the third re-establishes an elegiac mood – yet also one of hope, as it portrays a cosmology where new life and new rebirth are constantly ongoing. This idea of rebirth leads Vasks to model this movement on a lullaby, and towards the end Sol accompanies herself on the cello in a wordless sung vocalise that seems halfway between cradle-song and lament; ultimately this resolves onto an optimistic major chord as the cello shimmers away into nothing.
It seems unfair to devote so little space to the other two works on this disc – both are well worth listening to, if less extensive than Klātbūtne. First comes Musique du Soir ("Music of the evening"), on which Sol is accompanied by her mother Irène Timacheff-Gabetta at the organ. Vasks describes this as a work with a dual meaning – referring both to the literal evening of the day and also to the evening of one's life. The cello again assumes a personal, subjective role, contrasted with the impersonal majesty of the organ, which offsets Sol's rich, yearning tone with some thunderous "tutti" passages.
Finally, the unaccompanied diptych Grāmata čellam, the Book for Cello. This moves from furious dissonance to a ruminative, almost obsessive mood dominated by drone pedals where, again, brief self-accompanied vocal passages appear – just as exquisitely sung by Gabetta as before. A kind of tranquillity has the final word, though I found it a less settled feeling than the end of Klātbūtne.
Having enjoyed Distant Light I was expecting to like this album, and I certainly haven't been disappointed; indeed, there is a timelessness about Musique du Soir, in particular, that surpasses the violin concerto, and the cello writing suggests an intuitive grasp of the instrument. We surely have the friendship between Vasks and Gabetta to thank for this – she evidently knows how to put across his music exactly the way he intends, and equally he clearly understands how to draw the best out of her with his writing.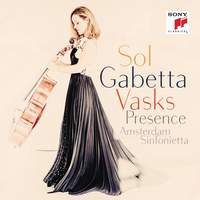 Sol Gabetta (cello), Irène Timacheff-Gabetta (organ), Amsterdam Sinfonietta, Candida Thompson
Available Formats: MP3, FLAC, Hi-Res FLAC