UPDATE: Royal Mail have now resumed shipments on ALL International services but delays should be expected, please choose FEDEX if your order is urgent.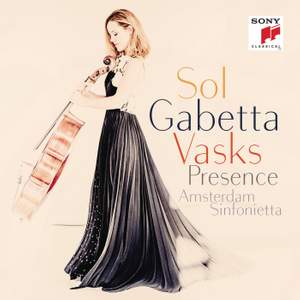 Vasks: Presence
Sol Gabetta (cello), Irène Timacheff-Gabetta (organ)
Amsterdam Sinfonietta, Candida Thompson
There's a simplicity and immediacy to Vasks's musical languge, not that far removed in character and spirituality to the sound world explored in John Taverner's The Protecting Veil, which makes...

— More…
Presto Recording of the Week

27th November 2015

BBC Music Magazine

April 2016

Concerto Choice
Contents
Vasks: Concerto No. 2 for Cello and String Orchestra, "Klatbutne / Presence"
Sol Gabetta (violoncello), Amsterdam Sinfonietta, Candida Thompson (concert master)
I. Cadenza - Andante cantabile
Sol Gabetta (violoncello), Irène Timacheff-Gabetta (organ)
Sol Gabetta (violoncello)