21st October 2014
 Interview

,

  Lawrence Zazzo on A Royal Trio
The American countertenor Lawrence Zazzo is not only an extremely classy and versatile singer, but also an intrepid musicologist (he's recently completed a period of research at Queen's University Belfast). For his latest disc (focusing on music commissioned by and premiered at the Royal Academy of Music in the 1720s), he's unearthed rarities by Ariosti and Bononcini, programmed here alongside rather more familiar arias by the third member of the RAM triumvirate, Georg Frederic Handel.
I caught up with Lawrence last week to find out a little more about the fertile culture fostered by the institution during this period and about how the project came into being…
Why 1725? Was it a particularly rich year in the Academy's history?
I chose that only as a 'snapshot' date, since the pieces on the CD range from 1721 to 1727. However, 1725 was a golden time for the Academy, a year in which all three composers were actively at work for Academy, and before any competition from the Opera of the Nobility, financial problems, or singers' defections—from a Handelian standpoint, it was a year in which Handel premiered Rodelinda and revived Giulio Cesare and Tamerlano—3 of his masterpieces which featured the alto castrato Senesino, whose music, I've found, fits my voice particularly well, and is featured on A Royal Trio, as all three composers wrote for him.
Where did you find the sources for the more obscure works, and how much hard labour was involved in getting them into a performance-ready state?
Choosing this programme involved a bit of detective work/treasure hunting in various libraries, including the British Library and the Bibliotheque Nationale in Paris. I'm also grateful to Lowell Lindgren, a Bononcini scholar who was immensely helpful in steering me in the right direction and also providing some manuscripts I didn't have access to. But the biggest thanks goes to David Bates, conductor of La Nuova Musica, for the Herculean task of creating orchestral and vocal scores from the manuscripts I collected. For some of the arias—for example, the prison scene from Ariosti's Coriolano, there was only a printed edition of the arias, so there was a need, as there often is when working with 'ancient' music, to fill in the blanks, make corrections, and guess the composer's/printer's intentions when something wasn't clear. As I noted in the CD slip, there was an instance of three versions of one aria, "Cosi stanco pellegrino", and instead of deciding on one we included all three within the same track!.
The booklet-note cites a letter from John Gay to Jonathan Swift, which is rather scathing about the contemporary vogue for debating the differences between Handel and Bononcini: how distinct do you think the three voices of these composers are? (We found some of the harmonies in the Ariosti almost folk/jazz-influenced - a colleague of mine actually thought it was twentieth-century when he caught a snippet!)
The three composers certainly have distinct styles, in two different ways. One has to remember that Bononcini and Ariosti were about 20 years older than Handel, and therefore come from a slightly earlier tradition, a transitional style between the early and middle Baroque, which is what your colleague may have been picking up on. The best years of Bononcini were certainly behind him, although he was wonderful at 'recycling', while Handel in the 1720s was just entering his prime as an opera composer, and his oratorio years still lay well ahead of him. Ariosti, in contrast to both Handel and Bonononcini, was in one sense an 'amateur' composer, like Steffani, in that he had a day job as a diplomat, and I do find his music wonderfully enthusiastic and idiosyncratic, somehow less polished than his colleagues' but delightful because of it.
How much cross-fertilisation was there amongst these three composers? Is there any evidence that they actively collaborated, or influenced one another more indirectly?
Both Ariosti and Bononcini were certainly influences on Handel: he first encountered their music during his impressionable early stay in Italy before coming to England. Later, Handel certainly 'borrowed' a bit from Bononcini's Xerse (1694) for his own Serse (1738), and his Pifa symphony in Messiah bears a distinct resemblance to an aria in Ariosti's Tito Manlio (1717). This 'borrowing', cause for a lawsuit today, was quite common and acceptable in the Baroque, often thought of as an homage or as a springboard to finding a personal 'twist' on a tradition. One must remember that these three were not only composers, but also performers, playing in the pit for each other's operas when they weren't conducting their own, so they had an opportunity to absorb each other's styles in a very physical way.
Finally, now that so much leg-work has been done on the manuscripts, are there any plans to reconstruct and stage any of the lesser-known works on here in their entirety?
I'm working on it! I know that Alejandro Garri, a scholar and editor, has reconstructed the lost recitatives in Coriolano, so I'd love to see that done somewhere, and I think Bononcini's Crispo is also a find. More importantly, while Rodelinda is now firmly in the repertoire of modern houses, Handel's Admeto and Ottone are filled with wonderful music but heretofore only the province of Handel festivals—I'd love to see that change—nudge nudge opera Intendants worldwide…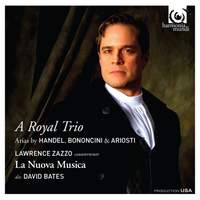 A Royal Trio is out now on Harmonia Mundi
Available Formats: MP3, FLAC, Hi-Res FLAC
Other discs featuring Lawrence Zazzo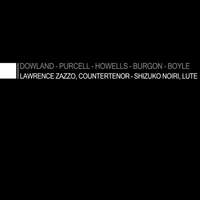 Zazzo is joined by lutenist Shizuki Noiri for this ingenious 'madhouse of a recital' [International Record Review], featuring songs by Campion, Dowland, Howells, Purcell, Geoffrey Burgon and others.
Available Formats: CD, MP3, FLAC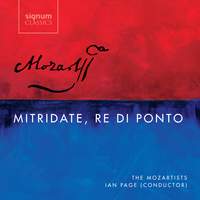 Zazzo sings the villainous Farnace on Classical Opera Company's new recording of the fourteen-year old Mozart's Roman opera seria, with Ian Page at the helm; the cast also includes Barry Banks in the title-role, Miah Persson as Aspasia and Sophie Bevan as Sifare.
Available Formats: 4 CDs, MP3, FLAC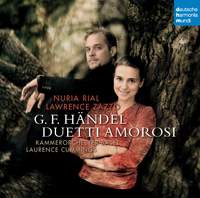 Zazzo is partnered by Catalan soprano Nuria Rial for this delectable programme of Handel opera duets, including excerpts from Arminio, Rodelinda and Teseo, with Laurence Cummings directing the Chamber Orchestra of Basel.
Available Formats: CD, MP3, FLAC