25th August 2014
 Recording of the Week

,

  Joyce DiDonato sings bel canto arias
A new disc from the charismatic American mezzo Joyce DiDonato is always one of the highlights of the year for me, and her latest project Stella di Napoli (out next Monday) is no exception. Following the high baroque flamboyance of Drama Queens, this new recital moves forward a little in time to focus on the bel canto repertoire, exploring the musical melting-pot that was early nineteenth-century Naples (which DiDonato compares to 1960s New York and 1920s Paris) and testifying to the infinite variety which the 'Neapolitan School' generated even whilst adhering to relatively formalised codes of composition.
Joyce DiDonato
The 'big three' bel canto composers, Donizetti, Bellini and Rossini, all appear, but by no means dominate: more than half of the programme falls to their lesser-known contemporaries (and in some cases colleagues and collaborators), so that the programme as a whole, and often the style of the more obscure composers, feels pleasingly familiar but peppered with surprises – rather like drinking a glass of really good prosecco with an unexpected dash of a local bitter. The track-list itself bears this out, studded as it is with standard operatic vocabulary with a twist: instead of Donizetti's Lucia di Lammermoor (one of the best-known of all bel canto operas), we have Michele Carafa's Le nozze di Lammermoor, whilst La vestale is not the setting by Spontini but an earlier version by Mercadante, and an operatic sleepwalker turns out to be Carlo Valentini's Il sonnambulo rather than Bellini's famous La sonnambula.
The opening number (taken from the Pacini opera which gives the disc its title) is an immensely catchy polonaise (the Neapolitan school were ever-keen to show off their cosmopolitan credentials!), which showcases DiDonato's coloratura to scintillating effect and takes her from a bottom F to gleaming high B flats. The sole Rossini aria, Zelmira's imperious 'Riedi al soglio', also provides vocal thrills aplenty – but for the most part, this disc is more about long-breathed melodies and plangent laments than it is about pyrotechnics. The supreme example here is the long final scene from Donizetti's Maria Stuarda, in which Mary bids farewell to her household before ascending the scaffold: DiDonato has recently been making waves on both sides of the Atlantic as the doomed Scottish queen, and the range of colour, perfectly-judged rubato and weightless sense of line she displays here make it easy to see why.
Several arias make ingenious use of solo instruments in dialogue with the voice, notably Carafa's Le nozze di Lammermoor with its lachrymose clarinet. Perhaps most intriguing of all is the extended scene from Donizetti's early opera Elisabetta al castello di Kenilworth (some local interest for us at Presto here – Kenilworth Castle is only a couple of miles up the road from our base in Leamington Spa!). The cavatina and cabaletta feature an obbligato part for glass 'armonica', similar to that in the famous mad-scene from the same composer's Lucia di Lammermoor – but as Riccardo Minasi explains in the booklet-notes, the rapid passagework here would be a physical impossibility on the instrument used in Lucia, where the sound is produced by rubbing glasses, rather than striking them with a percussive mechanism. As few original glass percussion instruments survive, this recording uses a modern metal glockenspiel, and Morgane Fauchois's virtuosity here is quite breathtaking.
A must for all fans of DiDonato, especially if you enjoyed her last Rossini disc Colbran: The Muse – and well worth exploring for anyone who fancies an enthusiastic, committed guide to the highways and byways of bel canto.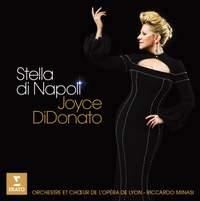 Joyce DiDonato (mezzo), Orchestre de l'Opéra National de Lyon, Riccardo Minasi
Available Formats: CD, MP3, FLAC, Hi-Res FLAC