19th May 2014
 Recording of the Week

,

  Sir Simon Rattle conducts Schumann
This coming Friday sees the official launch of the Berlin Philharmonic's own label – Berliner Philharmoniker Recordings. They've decided to launch the label with a lavish set of the complete Schumann Symphonies, conducted by the Orchestra's Principal Conductor Sir Simon Rattle, and recorded live in concerts at the Philharmonie Hall in Berlin last year.
Sir Simon Rattle
The orchestra have a great tradition of performing Schumann, going right back to their very first subscription concert in October 1882. And through Herbert von Karajan, Rafael Kubelik and others, they also have a number of distinguished recordings already in the catalogue, but I was keen to hear Rattle's take on these symphonies – a musician I much admire, who never fails to conjure a wonderful sound and always has plenty of thoughtful and interesting ideas to portray.
Listening to Rattle's comments on Schumann in the short video interview (link below), he talks about one of the keys to performing Schumann being that it should sound more like Mendelssohn than like Brahms, as it sometimes does. Listening to these recordings, I have to admit I don't feel a particularly strong sense of Mendelssohn (especially compared to some of the chamber orchestra versions I've heard recently (such as Yannick Nézet-Séguin's fine recent recording with the Chamber Orchestra of Europe on DG). There is often plenty of weight to the sound and tempos frequently held rather than scampering (as they might in a typical Mendelssohn Scherzo for example). However, I don't feel that is in any way to the music's detriment, and where the score calls for real character and humour (such as in the Scherzo of the Second Symphony) the Berliners certainly don't fail to deliver.
Rattle chooses the first version of the Fourth Symphony dating from 1841, (which in numerical order was actually the second symphony Schumann composed). Interestingly it is the version which Brahms preferred too, and more thinly scored than the later revised version. It works well here, and despite the large orchestra still sounds full of lightness and grace.
Well-thought-out tempo changes and plenty of rubato make for generally very persuasive accounts of all four symphonies. Rattle has clearly thought long and hard about exactly how to bring these works to life with a large symphony orchestra, carefully balancing winds and brass so as not to obscure any other details, but still never afraid to allow them (or for that matter the timpani) to let rip when it is safe to do so – the effect almost blows you away at times.
It is a lovely rich sound, with sumptuous strings and no shortage of impact. The opening of the Rhenish Symphony (No. 3) is stunningly majestic, and there are several moments where I found myself grinning from ear to ear at the sound of the gorgeous singing string section.
In short, there is a huge amount to enjoy here!
The set comes in glamorous packaging, with hardback linen covers. As well as the two CDs, it also contains a Blu-ray disc including both high resolution audio (24-bit, 96kHz), as well as High Definition Video (if you want to watch the performances as well as listen); a download code where you can download ultra-high resolution audio (24-bit, 192kHz); and a free 7-day ticket to the 'Digital Concert Hall' – the Berliner Philharmoniker's video streaming service. With all that in mind, the price (which initially looks a tad pricey when thinking of just two CDs) is actually a pretty great bargain!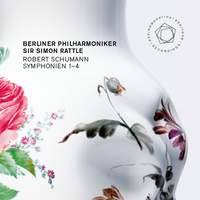 Berliner Philharmoniker, Sir Simon Rattle
Available Format: 2 CDs + Blu-ray