10th February 2020
 New Publications

,

  New Music Book Publications - 10th February 2020
Welcome to our latest selection of new music books. Our picks this time round include two publications for the Beethoven anniversary year (an updated edition of John Suchet's biography and a collection of poetry by Ruth Padel); a discussion of musical modernism in relation to the music of William Walton; the history of organ-building firm, Gray & Davison; a handbook of key concepts in musical theory; activities to encourage well-being in toddlers and young children; a contextual study of the impact of The Beatles; an examination of the role of women in Caribbean carnival music; and a look at the life of gospel legend, Mahalia Jackson.
Classical Music, Theory, & Aesthetics
John Suchet; Classic FM; Paperback
In this revised edition for the 250th anniversary of Beethoven's birth, John Suchet shows us the man behind the music, revealing a difficult and complex character struggling to continue his profession as a musician despite increasing deafness. This updated edition of Suchet's acclaimed biography contains new material, including a detailed guide to Beethoven's most important compositions, family tree, and timeline.
Available Format: Book
Ruth Padel; Chatto & Windus; Paperback
The poems in Ruth Padel's illuminating biography in verse investigate what Beethoven's life and music might mean to us today, retracing his steps through war-torn Europe of the early nineteenth century, delving into his music, letters, diaries, and the conversation books he used when deaf to uncover the man behind the legend.
Available Format: Book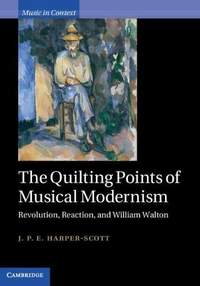 J.P.E. Harper-Scott; Cambridge University Press; Paperback
Drawing on the philosophy of Heidegger, Alain Badiou, Slavoj Žižek, and Giorgio Agamben, this book proposes a new dialectical theory of responses to musical modernism. Basing his analyses on the music of William Walton, the author explores connections between the politics of the nineteenth and twentieth centuries and responses to modernism in order to challenge accepted narratives of music history.
Available Format: Book
Nicholas Thistlethwaite; Boydell & Brewer; Hardback
This book charts the history of the celebrated organ-building firm, whilst also describing changes in musical taste and liturgical use and exploring such topics as provincial music festivals, the town hall organ, domestic music-making and popular entertainment, the building of churches, and the impact on church music of the Evangelical and Tractarian movements.
Available Format: Book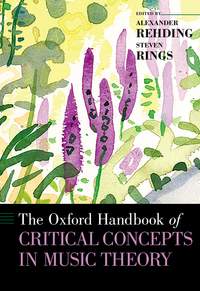 Alexander Rehding & Steven Rings (editors); Oxford University Press; Hardback
This book presents music-theoretical concepts as a register of key terms, progressing outwards from smallest detail to discussions on the largest scale. The approaches taken range from philosophical, historical, or analytical to systematic, cognitive, and critical-theorical, opening up a panoramic view of the contemporary music-theoretical landscape, and offering suggestions as to where music theory is headed in years to come.
Available Format: Book
Peter Holman; Boydell & Brewer; Hardback
This book investigates the ways that large-scale music was directed in Britain before baton conducting took hold in the 1830s. After surveying practice in Italy, Germany and France, the focus shifts to two strands of music-making in Stuart and Georgian Britain: choral music from Restoration cathedrals to the Handelian oratorio tradition, and music in the theatre from the Jacobean masque to nineteenth-century opera.
Available Format: Book
Jeffrey Friedberg; Jessica Kingsley Publishers; Paperback
From day one in a child's life, music is one of the most important things that can be used to help them grow and learn. Musical stimulation helps lay the foundation for a lifetime of skills, and this guide gives detailed advice on how to use music to help children from 0-5 years with developmental challenges such as attachment and bonding, bedtime, tantrums and daily living skills, social skills, motor skills and school readiness.
Available Format: Book
Michael Bull; Bloomsbury; Paperback
Sirens are sounds that confront us in daily life, from the sounds of police cars and fire engines to, less often, tornado warnings. This book argues, using a wide array of theorists from Adorno to Bloch and Kittler, that we should understand 'siren sounds' in terms of their myth and materiality, and that sirens represent a sonic confluence of power, gender and destructiveness embedded in core Western ideologies to the present day.
Available Format: Book
Popular & World Music
Kenneth Womack; Cambridge University Press; Hardback
From Liverpool to Beatlemania, the impact of The Beatles exploded during their heyday, and has endured in the decades following their disbandment. This volume brings together key themes in which to better explore their lives and work and understand their cultural legacy, focusing on the people and places central to their careers, the visual media that contributed to their continuing success, and the culture and politics of their time.
Available Format: Book
Gary Kenton; Peter Lang Publishers; Paperback
This book uses an approach informed by media ecology (the theoretical framework which recognises that each medium creates its own unique environment) to identify incompatibilities between the medium of television and the practice of rock 'n' roll, placing these tensions within the broader shift of emphasis from the traditional, tribal world dominated by the ear to the modern world which privileges the eye.
Available Format: Book
Daryl Easlea; Omnibus Press; Paperback
With their era-defining music and instantly recognisable look, Chic's reputation as pioneers of disco has endured long after the movement itself. Covering the sweet successes and fallings out of favour, the creative process and encounters with Jimi Hendrix, David Bowie, Diana Ross, Madonna and others, this book explores the highs and the lows of Chic's journey in fascinating detail.
Available Format: Book
Dominik Bartmanski & Ian Woodward; Bloomsbury; Paperback
Although the music industry is dominated by three companies, thousands of small independent labels have also developed. How can those outsiders not only survive, but thrive within mass music markets? This book shows how labels act as taste-makers and scene-markers that not only curate music, but project cultural values that challenge the mainstream industry.
Available Format: Book
Ashley Kahn; Granta Books; Paperback
A beautifully-illustrated study of saxophone legend John Coltrane's signature album, featuring the voices of musicians, producers and writers of the 1960s. The book unearths rare, unpublished interviews with Coltrane and bassist Jimmy Garrison, and also features commentary from contemporary music stars including Carlos Santana, Bono, Patti Smith, Ravi Shankar and Steve Reich.
Available Format: Book
Mark Burford; Oxford University Press; Paperback
Nearly a half century after her death, Mahalia Jackson remains the most esteemed figure in black gospel music history. This book situates her journey from church singer in New Orleans and Chicago to national pop-cultural celebrity within the expanding visibility of black gospel in the USA during the decade following World War II.
Available Format: Book