17th March 2023
Recording of the Week

,

Bobo Stenson Trio, 'Sphere'
Jon Fält, Bobo Stenson & Anders Jormin (Photo by Caterina Di Perri)
For the best part of five decades, Swedish pianist Bobo Stenson has led his eponymous trio in many forms, his relationship with ECM Records and label boss Manfred Eicher stretching all the way back to 1971 with his debut album Underwear, recorded with the rhythm section of bassist Arild Andersen and drummer Jon Christensen. It's this long-standing trio with which Stenson's name is often synonymous, and it's with the current iteration – featuring bassist Anders Jormin and drummer Jon Fält since 2008's Cantando – that his new album Sphere, is captured.
An active musician since the 1960s, by the 1970s Stenson entered a fairly prolific period in his career, and although he only released one album of his own – the aforementioned Underwear – by the early '80s he began recording his own music more regularly (albeit 'regularly' for Stenson is about once every 6-7 years). Earlier releases in Stenson's career include a short string of albums with saxophonist Jan Garbarek – including the excellent Witchi-Tai-To – as well as with the Swedish jazz band Rena Rama, while by the 1990s you could find him on the bandstand with Charles Lloyd and Tomasz Stańko, and he was also a close collaborator of Don Cherry during the trumpeter's tenure in Scandinavia.
Photo by Caterina Di Perri
The originals are few and far between on this one, save for two by Jormin – 'Kingdom of Coldness' and 'Unquestioned Answer', the latter of which serves as a tribute to the composer Charles Ives. The rest of the pieces, interestingly, are interpretations of various Scandinavian composers in a fittingly 'Nordic tone' style. While Stenson et al. keep things within this tradition of quiet, sparse ECM piano trios, things get a little more spirited at points with tunes like 'Ky and Beautiful Madame Ky' with its challenging rhythmic pulse – Fält mostly steers clear of the kick pedal on this record but provides some beat-based intrigue regardless – while the loose interpretation of Sibelius' 'Valsette op. 40/1' rises to a steady climax that tests the dynamic limits of the trio.
Bobo remarks that as a trio "We don't have a way of playing 'ready-made'. Things crystallise in the moment and we adjust to that"; Sphere has that down to a T, and despite the airy nature of Stenson and co.'s interpretations the trio are surprisingly locked-in, the listener never lost. Like many of these ECM piano trio albums, Sphere merits patience and close listening, rewarding mindful listeners.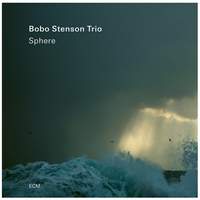 Available Formats: CD, MP3, FLAC, Hi-Res FLAC