17th December 2021
 Recording of the Week

,

  Johnathan Blake, 'Homeward Bound'
Photo by David Ellis
Johnathan Blake almost couldn't ask for a better jazz upbringing; born to violinist John Blake Jr., who played for both Grover Washington Jr. and McCoy Tyner, he spent most of his life surrounded closely by some of Philadelphia's finest musicians - even recounting in an interview that he'd be sat in a stroller watching his father on stage. Like many young instrumentalists he quickly found himself in local bands and studying music academically, composing his own music from a young age. Blake has always managed to keep himself busy throughout his time playing music, holding regular sideman spots for trumpeter Tom Harrell as well as pianist Kenny Barron, and he was even a regular in the late Dr. Lonnie Smith's band - having played on his later-life releases like Evolution and this year's brilliant Breathe.
When leading his own bands, Blake has opted in the past for a chordless quartet that includes two saxophonists, but most recently his core trio has consisted of pianist David Virelles and bassist Dezron Douglas. This time around, he's shaking things up with a quintet that adds both saxophone and vibes into the equation; and while past Blake recordings may have had a couple of originals peppered here and there, the vast majority of Homeward Bound is composed of his own works this time around, making for one of Blake's most carefully-constructed releases to date.
Though it's not Johnathan's first time on record, Homeward Bound does mark the drummer's first entry into the Blue Note catalogue, as well as the debut of his new Pentad quintet featuring some bright young voices - some of them even have their own debuts on the label, too, namely alto saxophonist Immanuel Wilkins and vibraphonist Joel Ross, whose smooth interplay forms the crux of the first proper piece of the record 'Homeward Bound (For Ana Grace)'. It's a difficult piece to process, dedicated to the daughter of saxophonist Jimmy Greene and flautist Nelba Marquez-Greene who was a victim of the Sandy Hook shooting. Far from mournful, 'Ana Grace' is almost jubilant, a celebration of her short time on Earth - but poignant nonetheless. It's here we get our first taste of Blake's soloists of choice for Homeward Bound; Ross springs to the front of the ensemble but manages to clash with Wilkins during the improvisatory sections. Both of them are on fire, vying for the listener's attention - it's an early highlight of the record, for sure.
With his now five-piece band, Blake certainly gets his money's worth out of them; with some of the tracks on Homeward Bound almost reaching the ten-minute mark there's plenty of space for the whole band to shine. Dezron Douglas' composition 'Shakin' the Biscuits' places the band into a slightly more off-kilter space, a kind of abrasive free-jazz influenced piece, though the band quickly follow things up with the more subtle and melodic 'Abiyoyo', a traditional South African lullaby. Blake indulges in a bit of off-beat swing à la New York jazz on 'On the Break', Virelles playing a repeated piano part almost akin to a hip-hop sample, though part of me wishes the track was more than just a short interlude.
As a drummer, Blake is used to supporting people, and on Homeward Bound that comes in spades. He's more than a capable player but seldom lets that overshadow his bandmates - or his own pieces - even amongst the most frantic moments like the climaxes of 'Steppin' Out' or 'LLL' there's enough percussion hits flying about to keep the backbeat from going stale, but he never over-does it. Perhaps the most surprising inclusion to the setlist is the closer 'Steppin' Out', originally by '80s electropop artist Joe Jackson - though you wouldn't know it. Blake and co.'s rendition sees the synth-driven banger totally deconstructed, with Jackson's vocal hooks excellently transposed over to Wilkins' sax and a mid-tempo, almost samba-like beat driving us back into the '80s. It's here again that Wilkins shines with an unashamedly Coltranian solo, squawks and all; among Blake's new quintet it certainly seems like it's his young stars that shine the brightest on Homeward Bound.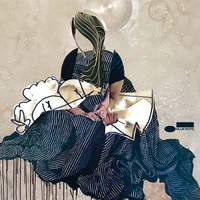 Available Formats: CD, MP3, FLAC, Hi-Res FLAC