11th January 2021
 Classic Album Review

,

  Alice Coltrane - Ptah, the El Daoud
To many listeners, the 'Coltrane' family name is almost always synonymous with John Coltrane, the trailblazing tenor saxophonist. Alice Coltrane (born McLeod), however, has a wealth of work in her catalogue as both a bandleader in spiritual jazz and sidewoman to many, including her husband. Though for much of her work she actually played the piano, she is perhaps more often thought of as one of jazz harp's few champions, often pictured with the harp on album covers and frequently associated with it in posthumous writing. Early in life, Alice studied classical music at the encouragement of her father; studies she continued under the tutelage of Bud Powell in Paris while she held an intermittent gig as an accompanying pianist at the Blue Note Jazz Club. She met John Coltrane whilst playing for Terry Gibbs' quartet in the early 60s; the couple would collaborate on various projects, including John's more spiritual works like the seminal A Love Supreme, and Alice would even replace McCoy Tyner as John's go-to pianist, recording with her husband in the studio until his death in 1967. It wasn't until John's passing that Alice would release her first album as bandleader - 1968's A Monastic Trio - building on the spiritual sounds she explored whilst working with her late husband.
Around this time, Alice would also begin following the teachings of guru Swami Satchidanada, moving to California in the early 70s and establishing the Vedantic Center - a centre for Hindu philosophy - where she would perform devotional ceremonies. It is also here that Ptah the El Daoud, Alice's third album as leader, was recorded. Made during her early period of fascination with Indian and African spirituality, the record is named after the Egyptian god of craftsmen, 'the El Daoud' meaning 'the beloved'. This release was Alice's second record with Ron Carter, a relative newcomer who also performed on Huntington Ashram Monastery, a trio album that also featured free-jazz drummer Rashied Ali (who would appear on some of John Coltrane's incredibly experimental final recordings). Ali is instead swapped out for Ben Riley, whom Alice had recorded with on her first solo record A Monastic Trio, though only appearing on one track.
Another mainstay of Alice's circle of collaborators, saxophonist Pharaoh Sanders returns playing alongside Joe Henderson for a novel dual tenor-sax arrangement. Sanders was also in the midst of recording some of his most ground-breaking work - 1969's Karma, 1971's Thembi and Black Unity - arguably two of his most historically well-known albums. Sanders in particular would become a key part of Alice's ensemble; for her following album Journey in Satchidananda, Sanders gets the star role as a featured soloist, his name on the cover playing soprano saxophone and percussion throughout. Ptah, the El Daoud is also Alice's first recording to include horns throughout, with Sanders and Henderson recorded in hard-panned stereo. The opening title track is a fourteen-minute tune that captures some of the more dark and alluring qualities of Coltrane's music, the powerful head melody played by this two-tenor combo. 'Turiya and Ramakrishna', by contrast, kicks back into a more cool swing, in line with the reflective state of 'Turiya' derived from Hindu philosophy, Ramakrishna also being a leader of Hindu faith. Indeed, much of Coltrane's music follows her interest in the spirituality of African and Indian cultures, with the allusions even more so prevalent in the serene 'Blue Nile', which sees Coltrane switching from piano to her signature harp, while her two saxophonists both adopt alto flutes.
It is easy to see how her time playing John's brand of spiritual jazz had affected her; with only four tunes across the whole album, each with hefty runtimes. Alice injects her own idiosyncratic styles into the sound, however, expanding on her past spiritual work with her own flair. Alice would continue making music for the rest of her life, releasing her final studio album in 2004 a few years before her passing. Other albums recorded around this time are also well worth a listen, if Ptah, the El Daoud is your cup of tea; the aforementioned Journey in Satchidananda with Pharaoh Sanders and 1971's Universal Consciousness also make for some brilliant devotional jazz goodness.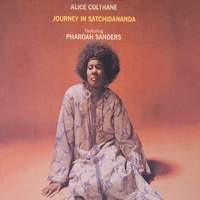 Available Formats: CD, MP3, FLAC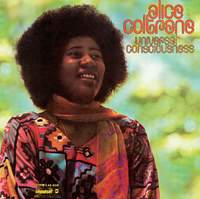 Available Formats: MP3, FLAC