20th November 2020
 Recording of the Week

,

  Christian Wallumrød Ensemble - Many
Christian Wallumrød's music exists in a peculiar eco-system all of its own. It's both an orderly yet frazzled universe, where sonic gestures often appear to be suspended in aspic, as if on display, and often divorced from the wider musical context in which they might first have gestated. There's an analytical detachment to much of the music on 'Many' that will most likely prompt one of two responses on the part of the listener: complete zoning out due to the lack of relatable emotional content, or delight as each new exhibit comes about. I genuinely have no idea what I'm supposed to be feeling when listening to a track like 'Staccotta', other than to observe it in much the same way one would watch as an electric current is passed through a dissected frog's leg… and cards on the table, I do enjoy a spot of twitching.
Wallumrød's music is recognisably born of the Norwegian improv scene that sprang up in the nineties, and it will be no surprise to learn that one of his first commissions was a collaboration with supersilent and Hum Crush keyboardist Ståle Storløkken for the Kongsberg Jazz Festival, or that he's frequently worked with trumpeter Arve Henriksen. Born in 1971, and trained on the Jazz program at the Trondheim Musikkonservatorium, Wallumrød's main instruments are piano, organ, and synthesizers, and I wonder if this grounding in chordal instruments informs the often block-based construction of his compositions. Signed to ECM in his twenties, he has released a consistently interesting and varied series of recordings over the past 25 years under the guise of the Christian Wallumrød Ensemble, with 2007's The Zoo is Far being a particularly memorable outing for the way it blended the seemingly incompatible disciplines of minimalistic composition and improv. On Many it feels as if Wallumrød has stripped his music down to as few raw elements as possible, making a piece like the opening 'Oh Gorge' an investigation into the nature of pulse, the tension generated by the disparity between the synthetic and the organic. Using the same players from his previous Hubro album, 2016's Kurzsam & Fulger - percussionist Per Oddvar Johansen, cellist Tove Törngren Brun, trumpeter Eivind Lønning and saxophonist Espen Reinertsen - Wallumrød also has each member doubling on electronic instruments. Starting with Törngren Brun's pulsing, Steve Reichian cello, a cold, regulated bleeping soon creeps in, followed by staccato notes from the other instruments, all playing steadily descending notes. It's as though an aural Venn diagram were being drawn, mapping the interstices between man and machine, and what might sound on paper like a rather dry exercise is actually full of life. As the track progresses I could hear similarities to that fast movement in Ligeti's second string quartet, which similarly toys with notions of imperfect mechanisms.
'50-80' almost convinced me it was going to follow a more conventional path, opening with a couple of sad chords on piano and marimba, and joined shortly after by what sounds like recorders, ever so slightly out of tune. But any sense of momentum is soon stifled, the figures revolving listlessly around, as rogue electronics further destabilise the queasy harmonic field. Wallumrød is constantly drawing our attention away from any grand designs and toward minuscule, incremental changes, all of which demands close listening. Tracks like 'Danszaal' and 'Dialect' have more recognisably jazz textures, with some tight ensemble playing, especially from Lønning and Reinersten's winds, but again, the mechanism seems to be malfunctioning, so we get motifs repeated over and over again, although jumping back to unpredictable start points. In fact it's only on the album's penultimate and longest track, 'El Johnton', that we get the appearance of a recognisable groove that we can get behind - it's even almost foot-tappable! But just as we're getting comfy things go awry, the group having been leading us down the garden path for a five-minute mid-section of pure electronic improv that's alienating and oppressive, whilst also oddly sensual, before returning us to the jauntiness of the opening. I won't pretend to understand what's going on in Wallumrød's head, but it's certainly compelling, and continues Hubro's excellent run of releases this year.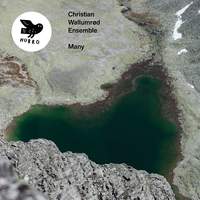 Christian Wallumrød Ensemble feat. Per Oddvar Johansen, Christian Wallumrød, Tove Törngren Brun, Espen Reinertsen, Eivind Lønning
Available Formats: MP3, FLAC, Hi-Res FLAC