21st October 2020
 Classic Recordings

,

  Louis Armstrong - Hot Five and Hot Seven Sessions
Louis Armstrong (often referred to as 'Satchmo' or 'Pops') is one of the best-known faces (and voices) in music. Although nowadays perhaps better known to the wider public as the husky voice behind 'What a Wonderful World', Armstrong's greater influence on jazz music can be traced even further back to his early days as a big band trumpeter and bandleader. Born and raised in segregated New Orleans at the turn of the twentieth Century, Armstrong grew up in poverty but was exposed to the sound of jazz music in local brothels and music halls during his early years. Regularly running jobs for a Jewish family in his neighbourhood, the Karnoffskys, the father of this family eventually gave him an advance on a pawn shop cornet, which served as his entry into playing music - Armstrong would wear a Star of David pendant for the rest of his life as a reminder of this act of kindness. Developing his style during a tumultuous early life in that segregated state, one of Armstrong's first big contributions to music was his time with Fletcher Henderson's orchestra. Predating his own Hot Five band, his time with Henderson saw him playing alongside a number of other contemporaries, most notably clarinetist Sidney Bechet and saxophonist Coleman Hawkins.
Following a period of playing for both Henderson and Joe "King" Oliver's bands, 'Louis Armstrong and his Hot Five' was the trumpeter's first outing as a bandleader, and some of his early recordings with this band are among his most renowned. The 'Hot Five' and 'Hot Seven' sessions themselves took place between 1925 and 1928 with various minor lineup changes, though the core of the band remains mostly the same. While fellow New Orleans contemporary Jelly Roll Morton's 'Red Hot Peppers' were already setting the high standard for big bands, Armstrong's own band was appreciated more for the bandleader's improvisatory spirit, something that would eventually influence generations of future jazz musicians. 'Potato Head Blues', one of his definitive tunes, harkens back to early ragtime composer Scott Joplin with its stop-time solo section, Armstrong's solo laying benchmark for jazz improvisation for decades to come. It was his expressiveness that captivated his past bandmate Coleman Hawkins during Armstrong's tenure with the Henderson orchestra. Though Armstrong mostly kept to his trumpet, his occasional vocal contributions also landed the group great praise; tunes like 'Heebie Jeebies' and 'Keyhole Blues' would lead to the popularisation of scat singing, the former being Armstrong's first recorded tune using the technique. His signature gravelly voice can already be found on these early recordings, which he would fully capitalise on later in his life.
The 'core' of the Hot Five and Hot Seven was, as previously mentioned, relatively unchanged throughout the band's existence. Besides Armstrong himself, appearing frequently throughout the Hot Fives & Sevens sessions is Johnny Dodds, who takes the lead on many of the band's cuts as lead clarinetist. Sometimes matching Armstrong's soloing skills with his own, Dodds himself had history playing with Jelly Roll Morton, as well as Joe "King" Oliver, one of Armstrong's early mentors. Also present in both the Hot Five and Hot Seven lineups was his then-wife Lil Hardin Armstrong, a classically-trained pianist who collaborated with Armstrong on numerous recordings throughout the 1920s. Hardin even mentored him on how to dress fashionably and manage his money to best effect, so as to navigate the music scene, as well as being the person to convince him to leave King Oliver's band and start his own.
Armstrong would of course later pursue alternative musical endeavours acknowledging his popularity as a vocalist, including another classic recording Ella and Louis with Ella Fitzgerald (though Armstrong still plays trumpet on this recording). Naturally, the recording quality of these 1920s sessions varies wildly due to the time period. Even through the roughness of these near hundred-year-old recordings, these sessions are still key in understanding the early formation of the genre, as well as being hugely enjoyable in their own right as perfectly proportioned works of art. Jazz was hardly new when Louis Armstrong began to play it, but he would be responsible for the growth of the sound and its wider popularity.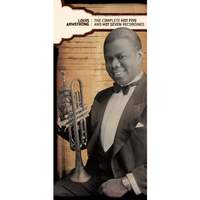 You can grab the complete set of the Hot Five & Hot Seven sessions here, with a whopping four and a half hour playtime.
Available Formats: MP3, FLAC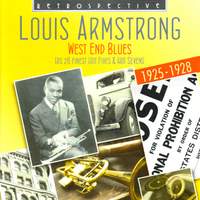 If you haven't quite got the time to work through the entire collection, there are plenty of selections from the sessions available on compilations like this.
Available Format: CD