15th October 2020
 Classic Album Review

,

  Roland Kirk - I Talk With the Spirits
Rahsaan Roland Kirk is hardly a name that comes to mind when I think of some of the more 'accessible' jazz music. Though not exactly an avant-garde character per se, Kirk was known for his highly idiosyncratic sax playing, among which included his party trick of playing up to three horns at once. While not always considered among the jazz elite like some of his more mainstream contemporaries - his multi-sax technique sometimes considered more of a novelty act - Kirk's legacy is that of innovation and eccentricity. Sadly passing away in 1977 after a lifetime of health issues and complications - including partial paralysis that led him to modify his instruments for one-handed playing - Kirk's history as an oddball was only supplemented by his technical prowess, playing as a one-man sax trio to create full saxophone chords, or utilising circular breathing to provide a droning accompaniment to his own playing. Though living his life in comparative obscurity to his contemporaries like Charles Mingus or Quincy Jones, Kirk seemingly preferred it that way, and rarely ever took sideman gigs, preferring to play and lead his own music. We covered another classic of his, 1969's Volunteered Slavery, last year, which you can read here. Matt covers even more ground of Roland Kirk lore in his review for those interested.
Though a saxophonist at heart, Kirk was known for amassing a huge collection of instruments, and exclusively plays the flute on I Talk With the Spirits. Not just swapping his usual saxophones out for a standard concert flute, Kirk also brings out his alto flute and African wood flute, as well as amplifying them on certain tracks; Kirk goes all-in with his 'flute only' album concept, while roughing it up in his own way. Even with the rather soft sound of the flute, his playing style retains the same quirks as usual, resulting in an undeniably grittier interpretation of the already long-established 'jazz flute'. While the playful, swinging melody on the opening tune 'Serenade to a Cuckoo' - a Kirk original - has a tender breathiness to it, he also employs harsher, buzzy tones in the latter half of the tune, pushing this 'softness' of the flute to its limits.
Kirk's use of experimental techniques on this record only adds to its curiosity. The track 'A Quote From Clifford Brown', for instance, has Kirk tapping out his solo using only the flute pads, featuring a call-and-response with what sounds like one of his sidemen slamming a suitcase, while on the track 'Ruined Castles', Kirk plays accompanied by an eerie music box. Kirk can even be heard singing lines between his flute melodies on tracks 'We'll Be Together Again / People' and 'The Business Ain't Nothin' but the Blues', while the Rasbach art song 'Trees' sees Kirk screeching into the upper register of the instrument. There's a point in the aforementioned 'The Business Ain't Nothin' but the Blues' where Kirk's soloing simply keeps trilling on the upper register in an arguably disgusting way, subjecting us to the shrillest possible sounds he can make. I Talk With the Spirits features the staple Roland Kirk banter too, his exclamations during songs making for some lighthearted moments on the record, like the howling laughter at the end of the short interlude 'Fugue'n and Alludin'.
The influence of I Talk With the Spirits can be found outside of jazz circles, too; flautist Ian Anderson of Jethro Tull, who arguably popularised the tune 'Serenade to a Cuckoo' in rock circles, took great inspiration from Kirk's dirty playing style, which would in turn inspire rock flautists many years after. If you hear a flute on a hard rock record nowadays, you probably owe at least some of it to Roland Kirk. Kirk would continue to use the flute throughout his career, but not quite to this extent - even whilst writing this article, I was surprised at how few photographs I could find of Kirk even holding a flute: even in ones that feature him playing it he has his signature sling full of saxophones around his neck. Though Kirk's career wasn't as long as his contemporaries', it was no less prolific, with plenty of gems like I Talk With the Spirits to discover. Besides our already recommended Volunteered Slavery, I strongly urge our readers to check out 1967's The Inflated Tear and 1965's Rip, Rig and Panic at the very least - you won't be disappointed.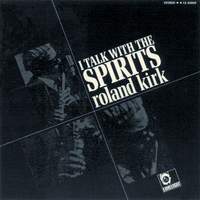 Available Formats: MP3, FLAC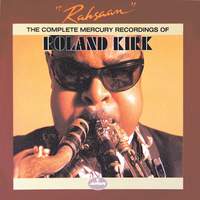 This incredibly thorough compilation includes many cuts from I Talk With the Spirits, amongst many more.
Available Formats: MP3, FLAC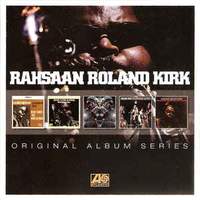 As a final recommendation, there's plenty to dig into here with this 5-album compilation set, which includes both The Inflated Tear and Volunteered Slavery.
Available Format: 5 CDs