25th September 2020
 Recording of the Week

,

  Thelonious Monk Quartet at Palo Alto
It's reassuring to know in this era of on-tap, instant grat, that there are still musical surprises tucked away in shoeboxes, waiting to be uncovered. The story behind this newly discovered live recording of the Thelonious Monk Quartet in 1968 is one of those rare instances, and the end result exceeds expectations. So let's travel back in time…. It's 1968 and a 15-year-old schoolboy jazz fanatic named Danny Scher has recently had his mind blown at the Monterey Jazz Festival. Growing up in the affluent, largely white town of Palo Alto, located in-between San Francisco and San Jose, Scher has started putting on jazz concerts at his high school. Aiming high, he has managed to persuade Monk's manager that he is genuine, and worthy of his artist. Monk is already scheduled to be in the area for a three-week stint at the Jazz Workshop in San Francisco, so it's agreed that he will play a Sunday afternoon concert at Palo Alto High School on the afternoon of 27th October.
This dream scenario was fraught with problems though. As the date approached Scher was becoming increasingly concerned by the slow ticket sales; psychedelic rock and flower-power, of which SF's Haight-Ashbury area was the hippie epicentre, was at its height in 1968, and jazz was not getting much of a look-in with white American youth. Racial tensions were also at boiling point, Martin Luther King Jr having been assassinated that same year, but Scher realised that to make it happen he would have to find an audience in the predominantly Black neighbourhood of East Palo Alto, which didn't find favour with the local police, who warned him that he was could be in danger when he tried to put up posters in the area. The Black community was also sceptical that an artist of Monk's stature would agree to play a high school, but Scher persuaded them to come along on the day, and buy a ticket when they could see it was for real. The day before the concert Scher called Monk to double-check the arrangements, only to find him unaware of the engagement, and with no means of transporting his band to the gig. Thankfully Scher's older brother had recently passed his driving test, and somehow managed to squeeze Monk and his men into his car, with Larry Gales's bass poking out of the window. The fact that the concert was captured on tape is down to the school's janitor, a budding sound recordist who offered to tune the piano if he could set up his microphones and reel-to-reel deck. Handing Scher a tape at the end, it was stored in a box and forgotten about for 50 years.
The concert itself clearly made a huge impression, and is mentioned in Robin D.G. Kelley's landmark biography Thelonious Monk: The Life and Times of an American Original: "Neither Thelonious nor sixteen-year-old Danny Scher fully grasped what this concert meant for race relations in the area. For one beautiful afternoon, blacks and whites, P.A. and East P.A., buried the hatchet and gathered to hear 'Blue Monk,' 'Well, You Needn't,' and 'Don't Blame Me.'"
With such a corker of a backstory, it's a relief that the recording more than lives up to the legend, containing performances bursting with life, capturing the quartet when they were at the top of their game (and sadly just prior to them disbanding). What the recording lacks in finesse it more than makes up with attitude, and is remarkably full and well balanced for an amateur production. The frisson of excitement of witnessing a great artist in a school hall is fully captured here, placing us squarely at the front of the stage. Monk, who was 51 at the time, is in terrific form throughout, despite having suffered a debilitating seizure earlier in the year. You can hear his restless engagement with tunes he's played thousands of times, always reinventing them on the spot; the creaking of his piano stool acts as a counterpoint to his unaccompanied spots, especially a marvellous version of 'Don't Blame Me'.
Tenor saxophonist Charlie Rouse had been with him for over ten years at this point, his playing being crucial to Monk's recorded output of the sixties. Recordings like this make a mockery of the fact that Rouse frequently came under fire from the jazz press for not being on the same level technically as earlier, more starry collaborators like Sonny Rollins, John Coltrane or Johnny Griffin. Rouse grasped the twists and turns in Monk's music better than anyone, and could improvise around them just as creatively (and often with more confidence) than those more famous names. His solo on 'Well, You Needn't' comes bursting out of the speakers with the swagger of someone who had sat in the sax section of numerous big bands in the forties and fifties. The band are clearly in their element on the closers 'Blue Monk' and 'Epistrophy' - a highlight being Rouse picking up the theme at the close of 'Epistrophy', with Riley doubling his intensity and Larry Gales's bass satisfyingly thick in mix. As T.S. Monk (his son) has said 'In 1968 they could play in a telephone box and sound great', and part of the allure of this set is hearing a hard-working, super-tight band. After the gig they were driven back to the Jazz Workshop for an evening engagement, and I'd wager they sounded just as explosive as they did here, making those of us not even born at that point even more envious for what we missed. I envisage this album becoming a go-to set for anyone interested in Monk's music in the sixties.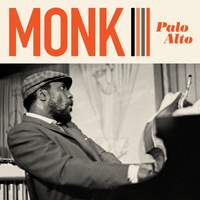 Available Formats: CD, MP3, FLAC, Hi-Res FLAC