24th September 2020
 Classic Recordings

,

  Trio of Doom
The Trio of Doom were, in many ways, almost too good to be true; a very short-lived collaboration between electric bassist Jaco Pastorius, perhaps best known for his work in Weather Report, and drummer Tony Williams and electric guitarist John McLaughlin. Both Williams and McLaughlin had worked together in Miles Davis's group during the trumpeter's fusion period, as well as in Williams's jazz rock project Lifetime (at the same time McLaughlin was playing in his own electric fusion group the Mahavishnu Orchestra).
The only commercial recording made by the trio, this eponymous part live/part studio album, was released in 2007 - almost 30 years after the original recordings were made in 1979. The album is split between two sessions, with tracks 1-5 being recorded live at the Karl Marx Theater in Havana, Cuba on 3rd March, and tracks 6-10 at CBS Studios in New York on 8th March. The story goes that the trio was initially assembled by Columbia to play the Havana Jam festival, and met again in New York the week after to record the tunes from the festival, but the recording session (and trio itself) was cut short after an argument broke out between Williams and Pastorius in the studio.
The Havana concert kicks off with a drum solo from Williams, after which McLaughlin's tune 'Dark Prince' begins to the crowd's cheers. It's an aggressive tune, mostly featuring the guitarist's lightning-fast soloing before Pastorius takes a solo in the latter half. The second tune, 'Continuum', takes things in a more melodic direction, with McLaughlin taking a backseat with some chordal ambience while Pastorius plays the lead role, after which the emcee introduces our players to the enthusiastic crowd. As erratic as elements of these performances are, the trio themselves are incredibly tight, with each of the members' musical calling cards shining through. There's that signature Pastorius bass tone; bright, punchy leads that see the bass guitar leaping to the front of the mix rather than sitting below, Tony Williams's busy and chaotic yet controlled style, and McLaughlin's balance of both gentle chordal playing and fast shredding.
As the set continues, Tony Williams's tune 'Para Oriente' borders on funk music, much of it carried by Pastorius's basslines as one would expect. Interestingly, two of the so-called 'alternate takes' on Side B are false starts of 'Para Oriente', with the trio not quite managing to hit the groove. It's entirely possible that it was after the recording of this tune that Pastorius and Williams's altercation began - Pastorius was known for his unpredictable demeanour, an unfortunate side-effect of his personal troubles. The trio never made it to a studio recording of McLaughlin's second tune 'Are You the One? Are You the One?', again held down by a freakishly fast bassline performed by Pastorius. Indeed, it seems quite fitting that the name of the trio is taken from the 'Bass of Doom', the name given to Pastorius's iconic Fender jazz bass that he supposedly ripped the frets out of to make it a fretless bass, albeit in a more DIY fashion than that of a proper luthier. While the trio would never be the same without any of its members, one of the first things that absolutely sticks out in a first-time listen is the power of Pastorius's bass playing.
Unfortunately, this record is all that exists of the short-lived trio. What could have been - or perhaps was - an explosive collaborative project was quickly dissolved in less than a week, leaving only a handful of recordings to document its existence. As great as the recordings we have are, Trio of Doom as a record is almost a bittersweet listen.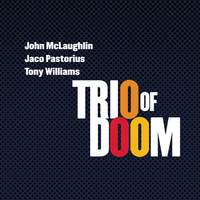 Trio of Doom is available in both CD and digital download formats.
Available Formats: CD, MP3, FLAC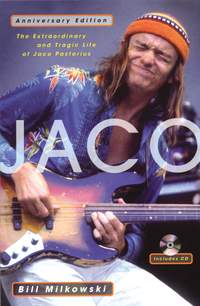 For those interested in Jaco's storied life, this will also make for a great read.
Available Format: Book