9th July 2020
Classic Recordings

,

Herbie Hancock - Maiden Voyage
For this week's classic recording review, I'm reminiscing on Herbie Hancock's 1965 nautical odyssey Maiden Voyage, a record that predates his innovative jazz-funk period and finds Hancock writing some of his earliest entries into the popular jazz songbook. Before the funky synthesiser-laden records like Head Hunters and commercial hits like 'Rockit', Hancock's early output consisted of piano-led hard bop records on Blue Note. It was with recordings like Takin' Off - which included an early version of 'Watermelon Man', later reworked into his new funk aesthetic on Head Hunters - that caught the attention of Miles Davis via the trumpeter's drummer, Tony Williams.
By Maiden Voyage Hancock was only a few years into his career as a bandleader at just twenty-four years old, yet had gained a wealth of experience as a sideman in many other Blue Note sessions, as well as his role in Miles Davis's second great quintet. Joining him during the Maiden Voyage sessions were two colleagues from the Davis group, Williams on drums and bassist Ron Carter, alongside soon-to-be star-trumpeter Freddie Hubbard, all three returning from Hancock's previous record Empyrean Isles. Completing the lineup was George Coleman, an under-rated saxophonist who had also been an occasional member of the pre-Wayne Shorter Miles Davis group, most memorably on My Funny Valentine, recorded alongside Hancock in 1964. Loosely conceptualised around themes of the ocean, Maiden Voyage treads familiar hard bop ground, but also finds plenty of uncharted water to discover.
The title track really steals the show, a tune that remains one of Hancock's personal favourites to this day and became a jazz standard, opening the record with an ominous melody that takes us straight into modal territory. It's a spacious composition that offers ample room for his soloists to flourish, setting Hancock's atmospheric tone for the record. It's a subtle yet imposing opener, no doubt stemming from his exposure to Miles Davis' cool approach. That being said, the energetic 'Eye of the Hurricane' quickly blows us off-course into choppier, Coltrane-esque waters, picking up with a quick swing tempo, a frenetic melody and an especially fiery solo from Hubbard.
Channelling the dynamism of the music he was making with the Davis group in the same period, Hancock's compositions allow for some fluid conversations between the players. There's a nice balancing of moods, so that while the quintet enters more chaotic territory again on 'Survival of the Fittest', the Count Basie-inspired 'Dolphin Dance' brings calm after the storm, returning us to more comfortably melodic territory with Hancock at the helm after the extended soloing of the previous track. In amongst the longer, more adventurous tracks the quaint melodicism of 'Dolphin Dance' and 'Little One' bring a welcome accessibility to the record. Hancock plays into some of the accelerating trends of modern jazz, with fast tempos and extended virtuosic soloing, while carefully balancing it with toneful and understated tunes; invoking Debussy with his sprinkles of washy piano chords across the record. While Hancock would go on to experiment in avant-garde jazz and the popular synth-funk sound that overshadows much of his earlier output, Maiden Voyage features some of his finest early work.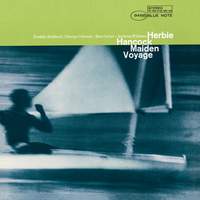 Available Formats: CD, MP3, FLAC, Hi-Res FLAC, Hi-Res+ FLAC