29th June 2020
 Classic Recordings

,

  Sarah Vaughan with Clifford Brown
Sarah Vaughan's 1954 self-titled record, featuring Clifford Brown on trumpet, is as much of a testament to Brown's playing as it is to Vaughan's talents. Referred to colloquially and on some reissues as Sarah Vaughan with Clifford Brown to promote the contributions of her main accompanist, the record was the product of a chance encounter and a single midwinter recording session. A standout recording so early into the vocalist's career, and the highest-profile release of the young trumpeter, Vaughan and Brown's classic record has cemented itself in the musical canon as both a Grammy Award winner and a favourite among vocal jazz fans.
Growing up in Newark, New Jersey with two music-loving parents - her mother was a singer in a church choir while her father played guitar and piano - Vaughan inherited her parents' interests and began playing piano and singing at church as young as eight. By her teenage years she would begin taking gigs in local nightclubs as a pianist and singer, which would eventually see her dropping out of high school to focus on her musical pursuits entirely, a gamble that fortunately paid off. Following a meeting with bandleader Earl Hines while opening for Ella Fitzgerald in 1942, Hines enlisted her into his big band as a pianist and singer, where she would perform regularly with bebop progenitors like Charlie Parker and Dizzy Gillespie, eventually finding her footing in a solo career around the mid-1940s. Sarah Vaughan with Clifford Brown lands us nine years later, with Vaughan recording on Mercury's jazz-focused sublabel EmArcy, following a stint of pop recordings with Columbia.
Among all of Vaughan's accompanists on the record Brown gets first billing even before the re-titled reissues. Meeting for the first time at a show at New York's Café Society club in 1951, Vaughan and the then-unrecorded trumpeter discussed a potential collaboration together, once Vaughan's pop album contract with Columbia had ended, and ultimately Sarah Vaughan with Clifford Brown was the two's only collaboration together before Brown's untimely death in 1956. Another notable inclusion to the sessions was a young Herbie Mann, far from the bare-chested smooth jazzer he would later become known as. Vaughan's presence in jazz would be maintained throughout the 50s, playing at the first Newport Jazz Festival as well as continued collaborations with Count Basie. The result is a solid selection of songs with an equally robust set of performers where, as critic Scott Yanow put it succinctly, simply "everything works"; each part feels purposeful, with no superfluous elements muddling up the arrangements.
Vaughan's reworkings of the songs are playful ones at times; opening the record with a scat vocal duet with Brown's trumpet playing on 'Lullaby of Birdland' also sets out the two's chemistry for the rest of the record. Produced by Bob Shad (known for producing early Charlie Parker recordings), the ensemble is well-served by some more subtle touches made to the arrangements, using Vaughan's soloists to accompany her vocals with short refrains or thickening the melody with supplementary voices. That being said, Vaughan's version of the Gershwin classic 'Embraceable You' sees the band stripped back to a trio, that sudden spareness making for one of the more tender spots on the record. While it's also one of the only tracks Brown doesn't feature on, he more than makes up for it on the prior song 'You're Not the Kind', showcasing some blazing bop chops.
As with many older jazz recordings, the production isn't always as clean as one would hope; there are a handful of sour spots where a soloist jumps up in the mix a little too much - there are only so many mouth sounds from Mann I can tolerate - and while Vaughan's voice sits comfortably about the mix, the instrumentation doesn't always have the most room to breathe. There are times where it becomes clear how much Brown outshone his fellow soloists; compare them to Mann's and saxophonist Paul Quinichiette's takes, where the former occasionally trips over his improvisation and the latter is sometimes a little understated for the energy and confidence Brown brings. This assuredness is also carried by Vaughan herself; her documented wide vocal range is not quite fully utilised on this album, but what is used shows dynamism and conviction, occasionally reaching into her slightly huskier low register, adding a surprising gruffness.
As much as this record can sometimes show signs of age, this never overshadows its abundant strengths. Even today, Vaughan's choice of songs and their execution is that right balance of jolly finger-snapping tunes and crooning ballads, with a bright set of session musicians - Brown, of course, being the key component of the ensemble - that make Sarah Vaughan with Clifford Brown such a continually rewarding listen.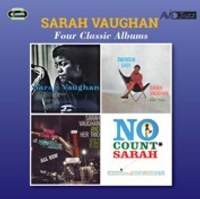 A generous selection of four Sarah Vaughan albums on 2 CDs
Available Format: 2 CDs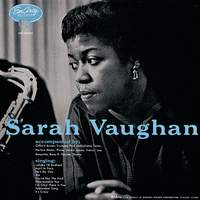 Available Formats: MP3, FLAC