27th March 2020
 Classic Recordings

,

  John Coltrane - Giant Steps
For this week's classic album review we're looking at John Coltrane's record Giant Steps, released on Atlantic in 1960. Essential listening for both listeners and aspiring players, of all of Coltrane's output this is easily the recording I find myself revisiting the most. Coltrane's back catalogue can be as daunting as any other equally prolific player, but as a jumping-off point into his albums, as well as a gateway to what would become his more energetic and improvisational style, you can do no better than Giant Steps.
With sessions taking place only two months after his contribution to Miles Davis's landmark modal jazz record Kind of Blue (1959), Coltrane was surrounded by plentiful skilled sidemen to record what would become one of his milestone records. Predating what would become known as Coltrane's 'Classic Quartet' period, the album nonetheless features a number of brilliant players, many of which already had prolific careers in their own right. His accompanist on much of the album was pianist Tommy Flanagan, heard on Sonny Rollins's classic Saxophone Colossus (1956), while Wynton Kelly provides the chordal foundations on the late-album ballad 'Naima'. Bassist Paul Chambers is heard throughout, while 'Naima' likewise features drummer Jimmy Cobb, both of whom Coltrane would have crossed paths with during Miles Davis's Kind of Blue sessions not long before, though Art Taylor provides the vast majority of drums on the album including the iconic title track.
A lot has been said about the titular opening track, and rightly so. The basis for what would become known as the 'Coltrane Changes', the tune features a standard V-I resolution with a twist; jumping around key centres to create a disorienting take on the traditional jazz structure. While Coltrane's blisteringly fast solos showcase his well-honed improvisational technique, Flanagan's slightly stilted piano solo sees him almost left in the dust before Coltrane takes up the horn for another round. The fast tempo combined with the then-unconventional changes is understandably a head-scratcher for players, lending to its status as a rite of passage for new aspiring jazzers. Coltrane's iconic 'Sheets of Sound' technique is all over the record; from the more straight-ahead tunes with his signature touch like 'Cousin Mary', to 'Countdown', another fast and frenetic tune. The other stand-out on the album is 'Naima', a late-album ballad that takes a much slower pace, fittingly played with the aforementioned Kind of Blue rhythm section of Wynton Kelly, Paul Chambers and Jimmy Cobb. Coltrane keeps his head low for much of the tune, with the meat of the track featuring Kelly playing lush choral melodies over a pedal bass note.
There's plenty more to delve into from these sessions, with subsequent releases from Atlantic including alternate takes of most tunes of the album. As we even saw on last year's archival release Both Directions at Once, Coltrane enjoys toying with arrangements and structure meticulously to find 'that' take. While still relatively early in his band-leading career, we can already hear glimpses of "that fast thing that [he] was searching for".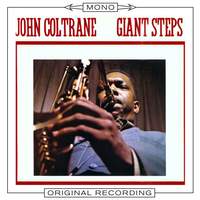 The original, superior mono version.
Available Formats: MP3, FLAC
A very attractively priced vinyl version!
Available Format: Vinyl Record