24th October 2019
 Classic Recordings

,

  Teddy Wilson
This week's classic recording comes from Teddy Wilson, perhaps the definitive swing era pianist. Born in 1912 in Texas, Wilson came up through the ranks as a member of Benny Carter's band, and then accompanied artists such as Louis Armstrong, Edmond Hall, and most significantly become a member of Benny Goodman's trio and quartet in the thirties, the first high-profile racially integrated jazz group, featuring the white Goodman and Gene Krupa with Wilson and Lionel Hampton. Wilson had a sophisticated style, and whilst capable of playing at faster tempos approaching those of Art Tatum, there was an unhurried, effortless air about him that was popular with a more mainstream audience. Wilson had a long and consistent career, stretching from the thirties through to the early eighties, with later recordings showing no sign of him losing his flair (he plays like a man possessed on some of the European sessions for Black Saint in the seventies).
The music on this collection comes from the years 1944-47, the period immediately after the longest running strike in entertainment history. In 1942 the American Federation of Musicians union called a ban on all commercial recordings in a battle to get royalties from record sales for a union fund for out-of-work musicians. Led by trumpeter James Petrillo, they had been opposing the increasing tendency to play 'canned music' (music on record), rather than going to the expense of broadcasting bands on the radio, and replacing live music with jukeboxes. In the first year the ban effectively stopped all recordings by union members. Curiously singers were not members of the union, as they were not deemed 'musicians', which led to some very odd solo voice recordings from Frank Sinatra and Bing Crosby, without musical backing. In the run-up to the strike the companies recorded as much as they could, but eventually they resorted to reissuing old records. Decca and Capitol relented in 1943, though RCA Victor and Columbia held out until the following year when the ban was lifted. Once the ban ended there was something of a goldrush to get musicians back on wax, and Teddy Wilson made numerous short and sweet 78s for Musicraft and Standard, many of which appear here. Working with groups ranging from trios up to octets these performances, largely sprucing up thirties swing themes, have tremendous energy and drive. There must have been a sense of triumph that the ban was lifted, and crucially that the musicians had won on this occasion, despite the hardships.
The personnel spread across these sessions is mouth-watering – Red Norvo on vibraphone, Don Byas and Ben Webster on saxophones, and Buck Clayton and Charlie Shavers on trumpet. Shavers is one of the real highlights on the 1944-45 sessions, his pithy playing on muted trumpet cutting through on tracks like The Sheik of Araby. Sarah Vaughan appears in a lovely rendition of Time after Time in a 1946 session, with subtle support from guitarist Remo Palmeiri, and the lesser-known vocalist Maxine Sullivan contributes a charming Evr'y Time We Say Goodbye, with Wilson's solo being one of the highlights of the set. Delights abound everywhere on this collection, as on a perfectly balanced Dinah, which democratically sees all players getting their own solo spots, and it's done and dusted in well under three minutes. The closing track Whispering is a nice, suave end to the set, featuring just a trio of Wilson, Billy Taylor Jnr on bass and drummer Bill Purnell. This collection shows the many sides to Wilson's talent, and fans of pianists like Oscar Peterson and Errol Garner who haven't come across him before should find his music rewarding.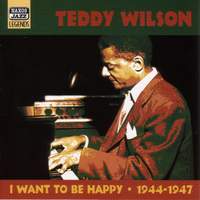 Selected works including 'China Boy', ' The Sheik of Araby' and more
Available Formats: CD, MP3, FLAC
Also worth considering...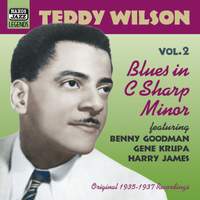 Teddy Wilson (piano), Ben Webster (saxophone) and more
Another fine collection from Naxos, this one focussing on the thirties and featuring Ben Webster, Benny Goodman, Billie Holiday, Gene Krupa, Buck Clayton and many more.
Available Formats: CD, MP3, FLAC