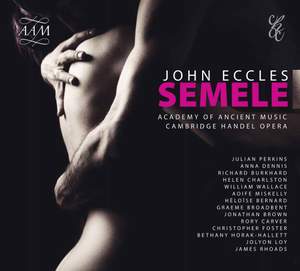 New

,

   Offer

,

 John Eccles: Semele
Anna Dennis (Semele), Richard Burkhard (Jupiter), Helen Charlston (Juno), Aoife Miskelly (Ino), William Wallace (Athamas), Héloïse Bernard (Iris); Academy of Ancient Music Julian Perkins
Cast, band, director and sound are all top-notch, restoring Eccles's score to its full glory...Thanks to Perkins's deft casting, each principal's vocalism and dramatis persona are wonderfully...

— More…
BBC Music Magazine

March 2021

Recording of the Month

Opera

April 2021

Disc of the Month

Gramophone Magazine

April 2021

Editor's Choice

Record Review

30th January 2021

Record of the Week
2 CDs
Original price
($41.00)
Reduced price
$33.75
Contents
Graeme Broadbent (bass), Rory Carver (tenor), William Wallace (tenor), Jonathan Brown (baritone), Anna Dennis (soprano), Aoife Miskelly (soprano), James Rhoads, Helen Charlston (mezzo-soprano), Héloïse Bernard (soprano), Bethany Horak-Hallett (soprano), Richard Burkhard (baritone), Christopher Foster (bass), Jolyon Loy (baritone)
Academy of Ancient Music
Julian Perkins
Behold Auspicious Flashes Rise
Lucky Omens Bless Our Rites
Daughter, Obey, Hear, and Obey
Ah Me! What Refuge Now Is Left Me?
See, She Blushing Turns Her Eyes
Hymen Haste, Thy Torch Prepare
Alas! She Yields, and Has Undone Me
Why Dost Thou Thus Untimely Grieve?
Avert These Omens, All Ye Pow'rs! (1)
Avert These Omens, All Ye Pow'rs! (2)
Again Auspicious Flashes Rise
O Athamas, What Torture Hast Thou Born!
Turn, Hopeless Lover, Turn Thy Eyes
Such Unavailing Mercy Is in Beauty Found
Ah Me, Too Much Afflicted!
Ah, Wretched Prince, Doom'd to Disastrous Love!
See, See, Jove's Priests and Holy Augurs Come
Endless Pleasure, Endless Love
Haste, Haste, to Sacrifice Prepare
Iris, Impatient of Thy Stay
There from Mortal Cares Retiring
No More, I'll Hear No More
Not One of Curst Agenor's Race I'll Spare
See, After the Toils of an Amorous Fight
Come Zephyrs, Come, While Cupid Sings
O Sleep, Why Dost Thou Leave Me?
Let Me Not Another Moment
Lay Thy Doubts and Fears Aside
If This Be Love, Not You Alone
With My Frailty Don't Upbraid Me
Thy Sex of Jove's the Masterpiece
Thy Needless Fears Remove
Leave Me, Loathsome Light
Dull God, Can'st Thou Attend the Waters Fall
Only Love on Sleep Has Pow'r
Be Wise as You Are Beautiful
But How Shall I Attain to Immortality?
Thus Let My Thanks Be Paid
Rich Odours Fill the Fragrant Air
Come to My Arms, My Lovely Fair
Tho' 'Tis Easie to Please You
When I Languish with Anguish
Oh Semele, Why Art Thou Thus Insensible?
Swear by the Stygian Lake
Then Cast Off This Human Shape Which You Wear
Ah! Take Heed What You Press
I'll Be Pleas'd with No Less
Above Measure Is the Pleasure
Ah Me! Too Late I Now Repent
Apollo Comes to Relieve Your Care
Then Mortals Be Merry (1)
Then Mortals Be Merry (2)