UPDATE: Royal Mail have now resumed shipments on their TRACKED & SIGNED and SIGNED services but delays should be expected, please choose these services if available to you or FEDEX if your order is urgent.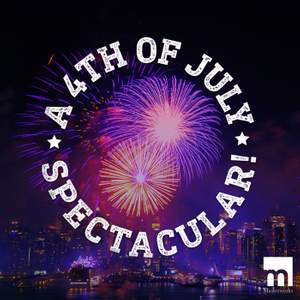 A July 4th Spectacular!
Richard P. Condie (director), The Incredible Columbia All Star Band, Morton Gould and His Symphonic Band, Harmony Military Band, Empire Brass (brass ensemble), Mark Gould (trumpet), David Ohanian (french horn), Norman Bolter (trombone), Armando Ghitalla (trumpet), Charles Lewis (trumpet), Thomas Gauger...
Contents
Copland: Fanfare for the Common Man
London Symphony Orchestra
Aaron Copland
Steffe: Battle Hymn of the Republic 'Glory Hallelujah'
Richard P. Condie (director)
Mormon Tabernacle Choir, Philadelphia Orchestra
Eugene Ormandy
The Incredible Columbia All Star Band
Gunther Schuller
Louis Lambert: When Johnny Comes Marching Home (The North)
Robert Shaw Chorale, RCA Victor Symphony Orchestra
Robert Shaw
Morton Gould and His Symphonic Band
Morton Gould
Katherine Lee Bates: America the Beautiful
Saint Louis Symphony Orchestra
Leonard Slatkin
Williams, John: Summon the Heroes
Boston Pops Orchestra
John Williams
Copland: 4 Dance Episodes from Rodeo: IV. Hoe Down
London Symphony Orchestra
Aaron Copland
Gershwin: Strike Up the Band
Boston Pops Orchestra
Arthur Fiedler
M. Willson: Seventy-Six Trombones
Boston Pops Orchestra
John Williams
G. W. E. Friederich: Yankee Doodle
Empire Brass, Thomas Gauger (percussion), Arthur Press (snare drum), Rolf Smedvig (trumpet), André Come (trumpet), Charles Lewis (trumpet), Armando Ghitalla (trumpet), Mark Gould (trumpet), David Ohanian (french horn), Norman Bolter (trombone)
G. W. E. Friederich: Lilly Bell Quickstep
Empire Brass, Thomas Gauger (percussion), Arthur Press (snare drum), Rolf Smedvig (trumpet), André Come (trumpet), Charles Lewis (trumpet), Armando Ghitalla (trumpet), Mark Gould (trumpet), David Ohanian (french horn), Norman Bolter (trombone)
Sousa: The Stars and Stripes Forever
Eastman Wind Ensemble, Donald Hunsberger (director)
Donald Hunsberger
Smith, J S: The Star-Spangled Banner
Saint Louis Symphony Orchestra
Leonard Slatkin