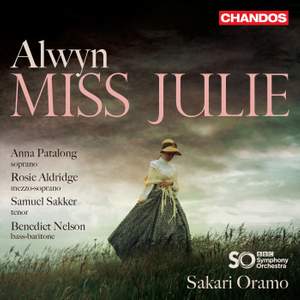 Offer

,

 Alwyn: Miss Julie
Anna Patalong (Miss Julie), Benedict Nelson (Jean), Rosie Aldridge (Kristin), Samuel Sakker (Ulrik), BBC Symphony Orchestra, Sakari Oramo
Though not all the musical ideas are equally strong, the finely-crafted result possesses undeniable tension and dramatic potency…The performance itself conveys clear conviction. Anna Patalong...

— More…
Contents
Benedict Nelson (bass-baritone), Anna Patalong (soprano), Rosie Aldridge (mezzo-soprano), Samuel Sakker (tenor)
The BBC Symphony Orchestra
Sakari Oramo
Orchestral Introduction. Allegro
Kristin, Kristin, Kristin!
Well, I've Travelled Around
There's a New Dance Starting
You Know Why I Came Here Tonight?
Midsummer Night, O, Night of Magic
Orchestral Introduction. Andante sostenuto
I Have No Time for Dreams
Would You Like Me to Dance
You Don't Know What It Is to Be Poor
She's the Queen of the Dance
I Can't, Not While We're Still in This House
Orchestral Introduction. Lento
Scum on the Surface of Water
If I Only Had Enough Money
Orchestral Interlude. Allegro precipitoso
Whatever You Say, I Know You Were Here with the Mistress
Class Is Class, and Don't You Forget It
He's Killed Her, Killed Her!
You're Mad! You're Both Mad!
Well, Well! So You're Going to Elope!