UPDATE: Royal Mail have now resumed shipments on ALL International services but delays should be expected, please choose FEDEX if your order is urgent.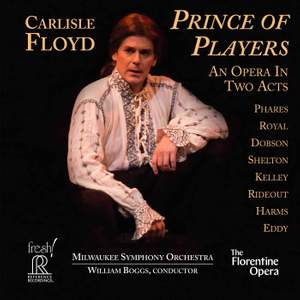 Carlisle Floyd: Prince of Players
Florentine Opera, Milwaukee Symphony Orchestra, William Boggs
The performance is excellent. As Kynaston, baritone Keith Phares sings well, articulates the text clearly, and is very touching in a role that requires a wide dramatic range. Kynaston has a bar...

— More…
Grammy Awards

63rd Awards (2021)

Nominee - Best Classical Composition
Contents
Floyd, C: Prince of Players
Keith Phares, Alexander Dobson, Nicholas Huff, Chad Shelton, John A. Stumpff, Rena Harms, Briana Moynihan, Kate Royal, Nicole Heinen, Vale Rideout, Nathaniel Hill, Frank Kelley, Sandra Piques Eddy, Jessica Schwefel
Florentine Opera Chorus, Milwaukee Symphony Orchestra
William Boggs
Not Again, Never Again! I Shall Not Be Humiliated Again!
Do You Know How Many Roles We've Seen You In?
The Duke of Buckingham, Your Majesty
Howl, Howl, Howl, Howl, Howl!
Ned, Are You Alright? You Look a Fright
Gents, It's My Esteemed Pleasure to Introduce
Bring Mistress Hughes to the Stage at Once