UPDATE: Royal Mail have now resumed shipments on ALL International services but delays should be expected, please choose FEDEX if your order is urgent.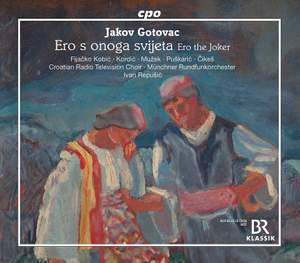 Jakov Gotovac: Ero s Onoga Svijeta (Ero the Joker)
Valentina Fijacko Kabic (Dula), Jelana Kordic (Doma), Tomislav Muzek (Mica), Ljubomir Puskaric (Sima), Ivica Cikes (Marko), Suzana Cesnjaj (A young shepherd), Croatian Radio Television Choir, Munchner Rundfunkorchester, Ivan Repusic
Ero s onoga svijeta is the most successful Croatian comic opera and probably the most widely admired of all Croatian operas...Valentina Fijačko Kobić mixes warm tone with potent projection as...

— More…
Contents
Gotovac: Ero s Onoga Svijeta
Valentina Fijacko (soprano), Tomislav Mužek (tenor), Jelena Kordic (mezzo-soprano), Ivica Čikeš (bass), Ljubomir Puškarić (baritone), Suzana Czesnaj (soprano), Ivan Rep
Croatian Radio and Television Choir, Munich Radio Orchestra
Ivan Repušić
Vidjele ste, siđoh odozgora
Da l' od naših nekog tamo viđe?
Ja sam ti o Đurđevu dne kitio pendžere
He, he! Da je tvoje, Što je moje
Što je sjajno, Ero, žuto zlato!
Kao da sam tvoje misli znala
Oj! Brblje voda, žrvnji rokću
Ja sam gazde, marka žena!
Otari s lica suze đevoijko
Što su konji, Ero, za jesenje!
Oba mi se slomiše koljena
Ne dođoh ne dernek da gladnim i žednim
Što su mome, Ero, za kradenje!
Ti znaš, Mića, dok sam dijete bila
Neću da se dulje ponizuješ ovdje
Meine moja majka svjetovala
Pa šta si onda varao i krao?
Što je sjajno, Ero, žuto zlato!
Kako. Što na nebu sja visoko