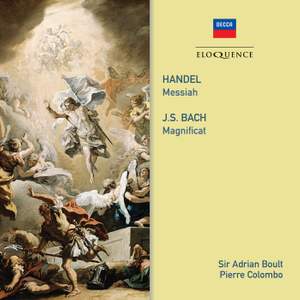 Offer

,

 Handel: Messiah & Bach: Magnificat
Jennifer Vyvyan (soprano), Norma Procter (contralto), George Maran (tenor), Owen Brannigan (bass-baritone), Eileen McLoughlin (soprano), Heather Harper (soprano), Alfred Deller (counter-tenor), Wilfred Brown (tenor), Maurice Bevan (bass)
London Philharmonic Orchestra, The Kalmar Orchestra, Sir...
Stentorian and often ponderous, the first of Adrian Boult's recordings of Messiah is very much of its time, though his London Philharmonic forces are captured in remarkably detailed mono sound.

— More…
3 CDs
Original price
($20.00)
Reduced price
$18.00
Contents
George Maran (tenor), Owen Brannigan (bass (vocal)), Norma Procter (contralto), Jennifer Vyvyan (soprano)
London Philharmonic Choir, London Philharmonic Orchestra
Sir Adrian Boult
Recorded: 1954-01-13
Recording Venue: Kingsway Hall, London
2. Ev'ry Valley shall be Exalted
3. And the Glory of the Lord
5. But who may abide the Day of his Coming
6. And He shall purify the sons of Levi
7. Behold, a Virgin shall Conceive
8 & 9. O Thou that Tellest Good Tidings to Zion
10. For Behold, Darkness shall Cover the Earth
11. The People that walked in Darkness
12. For unto us a Child is born
13. Pifa (Pastoral Symphony)
14. There were Shepherds...And Suddenly there was with the Angel
15. Glory to God in the Highest
16. Rejoice greatly, O Daughter of Zion
17. Then shall the Eyes of the Blind
18. He shall Feed his Flock
20. Behold the Lamb of God
22. Surely He hath borne our Griefs
23. And with His Stripes we are Healed
24. All we like Sheep have gone astray
25. All they that see Him
27. Thy Rebuke hath broken His Heart
30. But Thou didst not Leave
32. Unto which of the Angels
33. Let all the Angels of God
34. Thou art gone up on high
35. The Lord gave the Word
36. How Beautiful are the Feet
37. Their Sound is gone out
39. Let us Break their Bonds asunder
40. He that Dwelleth in Heaven
41. Thou shalt Break them
43. I Know that my Redeemer Liveth
44. Since by Man came Death
45. Behold, I tell you a Mystery
46. The Trumpet shall Sound
47. Then shall be Brought to Pass
48. O Death, where is thy Sting?; 49. But Thanks to God
51. Worthy is the Lamb...Amen
Bach, J S: Magnificat in D major, BWV243
Alfred Deller (counter-tenor), Eileen McLoughlin (soprano), Heather Harper (soprano), Maurice Bevan (bass (vocal)), Wilfred Brown (tenor), Elsie Morison (soprano)
Kalmar Orchestra, The St. Anthony Singers
Pierre Colombo
Recorded: 1955-05
Recording Venue: London
2. Aria: "Et exsultavit spiritus meus"
3. Aria: "Quia respexit humilitatem"
4. Chorus: "Omnes generationes"
5. Aria: "Quia fecit mihi magna"
6. Aria (Duet): "Et misericordia"
7. Chorus: "Fecit potentiam"
8. Aria: "Deposuit potentes"
9. Aria: "Esurientes implevit bonis"
10. Aria (Terzetto): "Suscepit Israel"
11. Chorus: "Sicut locutus est"
12. Chorus: "Gloria Patri"