UPDATE: Royal Mail have now resumed shipments on their TRACKED, TRACKED & SIGNED and SIGNED services but delays should be expected, please choose these services if available to you or FEDEX if your order is urgent.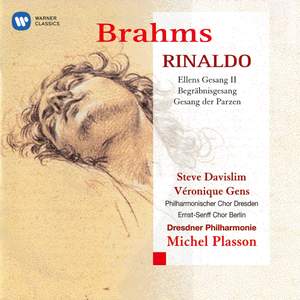 Brahms: Rinaldo, Ellens Gesang II, Begräbnisgesang & Gesang der Parzen
Veronique Gens (soprano vocals), Steve Davislim (tenor vocals)
Ernst-Senff-Chor Berlin, Philharmonischer Chor Dresden, Michel Plasson
Contents
Steve Davislim (tenor)
Ernst Senff Chor, Dresdner Philharmoniker, Philharmonischer Chor Dresden
Michel Plasson
"Zu dem Strande! Zu der Barke!"
"Stelle her der gold'ner Tag"
"Ja, so sei's! Ich will mich fassen"
"Auf dem Meere" (Schlusschor)
Schubert: Schubert / Arr. Brahms: Ellens Gesang II, Op. 52 No. 2, D. 838 (Arr. for Soprano, Chorus and Winds, Anh. 117)
Véronique Gens (soprano)
Ernst Senff Chor, Dresdner Philharmoniker, Philharmonischer Chor Dresden
Michel Plasson
Brahms: Begräbnisgesang, Op. 13
Ernst Senff Chor, Dresdner Philharmoniker, Philharmonischer Chor Dresden
Michel Plasson
Brahms: Gesang der Parzen (Song of the Fates), Op. 89
Ernst Senff Chor, Dresdner Philharmoniker, Philharmonischer Chor Dresden
Michel Plasson