US Airmail Charges: As a knock-on effect of COVID-19 airfreight prices around the world have soared. Reluctantly, we have had to pass on some of this increase in our standard airmail prices. We'll bring them down again as soon as we can!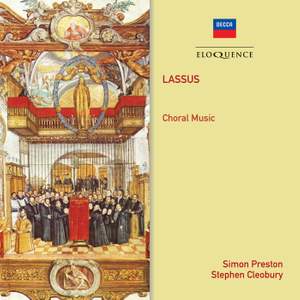 Lassus: Choral Music
Choir of King's College Cambridge & Choir of Christ Church Cathedral Oxford
Luminous, nuanced performances from the choirs of King's College and Oxford's Christ Church Cathedral showcasing the glorious, rich vocal polyphony of this prolific late Renaissance master with...

— More…
Contents
Lasso: Missa Bell' Amfitrit' altera.
24:30
Simon Preston (director)
Christ Church Cathedral Choir, Oxford
Recorded: 1973-12-19
Recording Venue: The Chapel of Merton College, Oxford
Lasso: Psalmus Poenitentialis VII
22:11
Simon Preston (director)
Christ Church Cathedral Choir, Oxford
Recorded: 1973-12-19
Recording Venue: The Chapel of Merton College, Oxford
Simon Preston (director)
Christ Church Cathedral Choir, Oxford
Recorded: 1975-03-20
Recording Venue: Christ Church Cathedral, Oxford
Simon Preston (director)
Christ Church Cathedral Choir, Oxford
Recorded: 1975-03-20
Recording Venue: Christ Church Cathedral, Oxford
Lasso: Alma Redemptoris Mater
4:00
Simon Preston (director)
Christ Church Cathedral Choir, Oxford
Recorded: 1975-03-20
Recording Venue: Christ Church Cathedral, Oxford
Lasso: Psalmus Poenitentialis V
39:26
Simon Preston (director)
Christ Church Cathedral Choir, Oxford
Recorded: 1975-03-20
Recording Venue: Christ Church Cathedral, Oxford
Simon Preston (director)
Christ Church Cathedral Choir, Oxford
Recorded: 1975-03-20
Recording Venue: Christ Church Cathedral, Oxford
Lasso: Missa Super Triste Depart
22:10
Choir of King's College Cambridge
Stephen Cleobury
Recorded: 1993-12-16
Recording Venue: King's College, Cambridge
Lasso: Missa Super Quand'io pens'al martire
21:30
Choir of King's College Cambridge
Stephen Cleobury
Recorded: 1993-12-16
Recording Venue: King's College, Cambridge
Lasso: Motet: Vinum Bonum
4:15
Choir of King's College Cambridge
Stephen Cleobury
Recorded: 1993-12-16
Recording Venue: King's College, Cambridge
Lasso: Missa ad imitationem Vinum bonum
17:12
Choir of King's College Cambridge
Stephen Cleobury
Recorded: 1993-12-16
Recording Venue: King's College, Cambridge