UPDATE: Royal Mail have now resumed shipments on their TRACKED & SIGNED and SIGNED services but delays should be expected, please choose these services if available to you or FEDEX if your order is urgent.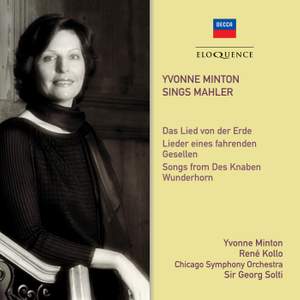 Yvonne Minton Sings Mahler
Yvonne Minton (mezzo-soprano), René Kollo (tenor)
Chicago Symphony Orchestra, Sir Georg Solti
Sympathetic mezzo Yvonne Minton shares Das Lied with heroic tenor Rene Kollo, and adds the Fahrenden Gesellen cycle and four Wunderhorn songs – all vividly played by Georg Solti's Chicago Symphony.

— More…
Contents
Mahler: Das Lied von der Erde
René Kollo (tenor), Yvonne Minton (mezzo-soprano)
Chicago Symphony Orchestra
Sir Georg Solti
Recorded: 1972-05-09
Recording Venue: Krannert Centre, University of Illinois, Champaign, IL.
Das Trinklied vom Jammer der Erde
 Excerpt,  Mahler: Des Knaben Wunderhorn (1899 version)
Yvonne Minton (mezzo-soprano)
Chicago Symphony Orchestra
Sir Georg Solti
Recorded: 1970-04-07
Recording Venue: Medinah Temple, Chicago
Wo die schönen Trompeten blasen
Mahler: Lieder eines fahrenden Gesellen
Yvonne Minton (mezzo-soprano)
Chicago Symphony Orchestra
Sir Georg Solti
Recorded: 1970-04-08
Recording Venue: Medinah Temple, Chicago
1. Wenn mein Schatz Hochzeit macht
2. Ging heut' morgen übers Feld
3. Ich hab' ein glühend Messer
4. Die zwei blauen Augen von meinem Schatz