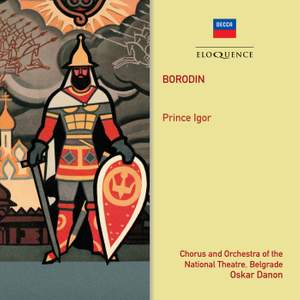 Borodin: Prince Igor
Dušan Popović (Igor Svyatoslavich), Valerija Heybal (Yaroslavna), Noni Žunec (Vladimir Igorevich), Žarko Cvejić (Vladimir Galitsky/Konchak), Melanija Bugarinović (Konchakovna), Dragutin Petrović (Ovlur), Dragomir Ninković (Skula), Nikola Jančić (Yeroshka), Biserka Cvejić (Yaroslavna's Nurse/Polovtsian...
Popović strikes me as an excellent baritone, a muscular sound with ringing top notes. His is one of the best Prince Igors on disc – heroic and noble...Bugarinović has a dark, almost contralto-ish...

— More…
Gramophone Magazine

February 2019

Reissue of the Month
Contents
Dushan Popovich (baritone), Dushan Popovich (bass (vocal)), Dragomir Ninkovich (bass (vocal)), Valeria Heybalova (soprano), Biserka Cvejic (soprano), Melanie Bugarinovich (mezzo-soprano), Dragutin Petrovich (tenor), Zharko Tzveych (bass (vocal)), Nikola Janchich (tenor), Noni Zhunetz (tenor)
Belgrade National Opera Orchestra, Belgrade National Opera Chorus
Oskar Danon
Recorded: 1955-02-09
Recording Venue: House of Culture, Belgrade
"Solntsu krasnomu slava, slava, slava v nebe!"
"Idem na bran's vragom Rusi!"
"Knjaz'ja, pora nam vystupat!"
"Pust pridut knyagini i boyarini"
"Slava, slava, Volodimiru"
"Ho! Knjazju Galickomu slava!"
"Oj, lichon'ko! Oj gorjusko!
"Stoj, rebjata, sluchaj!"
"Shto u knjazja da Volodimira"
"Da, vot komu by knjazhit' na Putivle!"
"Ne malo vremeni proslo s tech por"
"Tam devuski prisli k tebe, knjaginja"
"Dobro pozhalovat', bojare"
"Nam, knjaginja, ne vpervye"
"Na bezvodii, dnyom na solntse"
Dance of the Polovtsian Maidens
"Solnce za goroj uchidit na pokoj"
"Ti li, Vladimir moi? Ti li, o milii moi?"
"Ni sna, ni otdikha izmuchennoi dushe"
"Pozvol'mne, knaze, slovo molvit'"
"Zdorov-li, knyaz? Shto priunil ti, gost moi?"
"Gej! Plennic privesti sjuda!"
Polovtsian Dances - "Uletaj na kryl'jach vetra"
Polovtsian Dances - "Pojte pesni slavy chanu!"
Polovtsian Dances - "Slav'te shchesrost, slav'te milost'!"
"Rat idyot domoi, rat idyot s podeboi"
"Nash mech nam dal pobedu"
"Uzel'chan nas gorod vsjal"
"Knjaz', skorej sbirjsja v put'"
"Vladimir! Uzhel vsyo eto pravda?"
"Akh, plachu ya, gorko plachu ya"
"Och, ne bujnyl veter zavyval"
"Kak unilo vsyo krugom, syola vizheni"
"On, moi sokol yasni!...Zdravstvui! Radost, lada"
"Gljadi! Glyadi! Gljadi-ko!"
"Narod!...suda! suda! idi! skorei!"
"Guljaj vo zdrav' knjajzja"