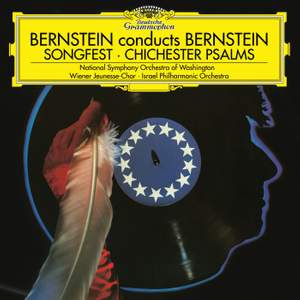 Bernstein: Songfest, Chichester Psalms
Donald Gramm (bass), Clamma Dale (soprano), John Reardon (baritone), Neil Rosenshein (tenor), Nancy Williams (mezzo-soprano), Rosalind Elias (mezzo-soprano), Günther Theuring (chorus master), Soloist of the Wiener Sangerknaben
National Symphony Orchestra Washington, Wiener Jeunesse-Chor, Israel...
Contents
Donald Gramm (bass (vocal)), Clamma Dale (soprano), John Reardon (baritone), Neil Rosenshein (tenor), Nancy Williams (mezzo-soprano), Rosalind Elias (mezzo-soprano)
National Symphony Orchestra Washington
Leonard Bernstein
Recorded: 1977-12
Recording Venue: John F. Kennedy Center, Washington D.C.
2. "The Pennycandystore Beyond The El"
4. "To What You Said ..."
5. "I, Too, Sing America" / "Okay 'Negroes' "
6. "To My Dear And Loving Husband"
8. "If You Can't Eat You Got To"
9. "Music I Heard With You"
11. "What Lips My Lips Have Kissed ..."
Bernstein: Chichester Psalms
Günther Theuring (chorus master), Soloist of the Wiener Sangerknaben (1) (singer)
Wiener Jeunesse-Chor, Israel Philharmonic Orchestra
Leonard Bernstein
Recorded: 1977-08-23
Recording Venue: Philharmonie, Berlin
1. Psalm 108,2 / Psalm 100
2. Psalm 23 / Psalm 2,1-4
3. Psalm 131 / Psalm 133,1