US Airmail Charges: As a knock-on effect of COVID-19 airfreight prices around the world have soared. Reluctantly, we have had to pass on some of this increase in our standard airmail prices. We'll bring them down again as soon as we can!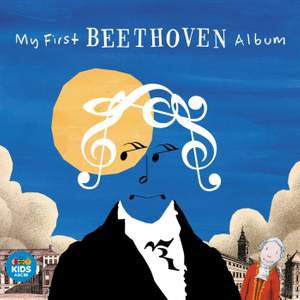 My First Beethoven Album
Gerard Willems (piano), Max Olding (piano), Dene Olding (violin), Goldner String Quartet (string quartet)
Sydney Symphony Orchestra, Seraphim Trio, Tasmanian Symphony Orchestra, Australian World Orchestra, Sinfonia Australis, Queensland Symphony Orchestra, Sydney Philharmonia Orchestra, Sydney...
Contents
 Excerpt,  Beethoven: Symphony No. 5 in C minor, Op. 67
7:21
Sydney Symphony Orchestra
Willem van Otterloo
Recorded: 2005
 Excerpt,  Beethoven: Piano Trio No. 2 in G major, Op. 1 No. 2
3:22
Timothy Nankervis (cello), Anna Goldsworthy (piano), Helen Ayres (violin)
Seraphim Trio
Recorded: 2016
 Excerpt,  Beethoven: Piano Sonata No. 14 in C sharp minor, Op. 27 No. 2 'Moonlight'
6:42
Gerard Willems (piano)
Recorded: 1998
 Excerpt,  Beethoven: Symphony No. 6 in F major, Op. 68 'Pastoral'
10:32
Tasmanian Symphony Orchestra
David Porcelijn
Recorded: 2002
I. Awakening Of Cheerful Feelings On Arrival In The Countryside. Allegro ma non troppo
10:32
 Excerpt,  Beethoven: Symphony No. 9 in D minor, Op. 125 'Choral'
13:00
Australian World Orchestra
Alexander Briger
Recorded: 2013
2. Molto Vivace – Presto – Tempo I
13:00
Beethoven: Für Elise (Bagatelle in A minor, WoO59)
3:22
Gerard Willems (piano)
Recorded: 2010-01-01
 Excerpt,  Beethoven: Piano Concerto No. 5 in E flat major, Op. 73 'Emperor'
7:40
Gerard Willems (piano)
Sinfonia Australis
Antony Walker
Recorded: 2010
Beethoven: The Ruins of Athens Overture, Op. 113
1:56
Queensland Symphony Orchestra
Patrick Thomas
Recorded: 2011-01-01
 Excerpt,  Beethoven: Piano Sonata No. 8 in C minor, Op. 13 'Pathetique'
5:41
Gerard Willems (piano)
Recorded: 2000
 Excerpt,  Beethoven: Violin Sonata No. 5 in F major, Op. 24 'Spring'
1:22
Max Olding (piano), Dene Olding (violin)
Recorded: 1990-01-01
3. Scherzo (Allegro molto)
1:22
 Excerpt,  Beethoven: String Quartet No. 2 in G major, Op. 18 No. 2
4:37
Goldner String Quartet (string quartet)
Recorded: 2009-01-01
 Excerpt,  Beethoven: Symphony No. 9 in D minor, Op. 125 'Choral'
8:41
Sydney Philharmonia Motet Choir, Sydney Philharmonia Orchestra, Sydney Philharmonia Symphonic Choir
Antony Walker
Recorded: 1999-07-31