Latest update: Due to disruptions after a recent warehouse move by the UK's largest music distributor, the supply of various labels including Decca, DG, Sony, and Harmonia Mundi are subject to significant delays. Please continue to order products from these labels, as the situation should be back to normal within the next few weeks. This is affecting all UK music retailers at the present time. If you have any questions please do contact us.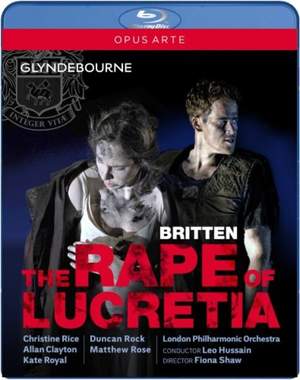 Britten: The Rape of Lucretia
Christine Rice (Lucretia), Allan Clayton (Male Chorus), Kate Royal (Female Chorus), Duncan Rock (Tarquinius), Matthew Rose (Collatinus), Michael Sumuel (Junius), Catherine Wyn-Rogers (Bianca) & Louise Alder (Lucia)
London Philharmonic Orchestra, Leo Hussain (conductor) & Fiona Shaw (stage...
The production, set during an archaeological excavation, packs a punch

— More…
Presto Recording of the Week

22nd July 2016

Gramophone Magazine

Awards Issue 2017

DVD/Blu-ray of the Month

Opera

November 2016

Recording of the Month
Contents
Britten: The Rape of Lucretia
Recorded live at Glyndebourne Opera House, Lewes, October 2015
Christine Rice (Lucretia), Allan Clayton (Male Chorus), Kate Royal (Female Chorus), Duncan Rock (Tarquinius), Matthew Rose (Collatinus), Michael Sumuel (Junius), Catherine Wyn-Rogers (Bianca) & Louise Alder (Lucia)
London Philharmonic Orchestra
Leo Hussain (conductor) & Fiona Shaw (stage director)